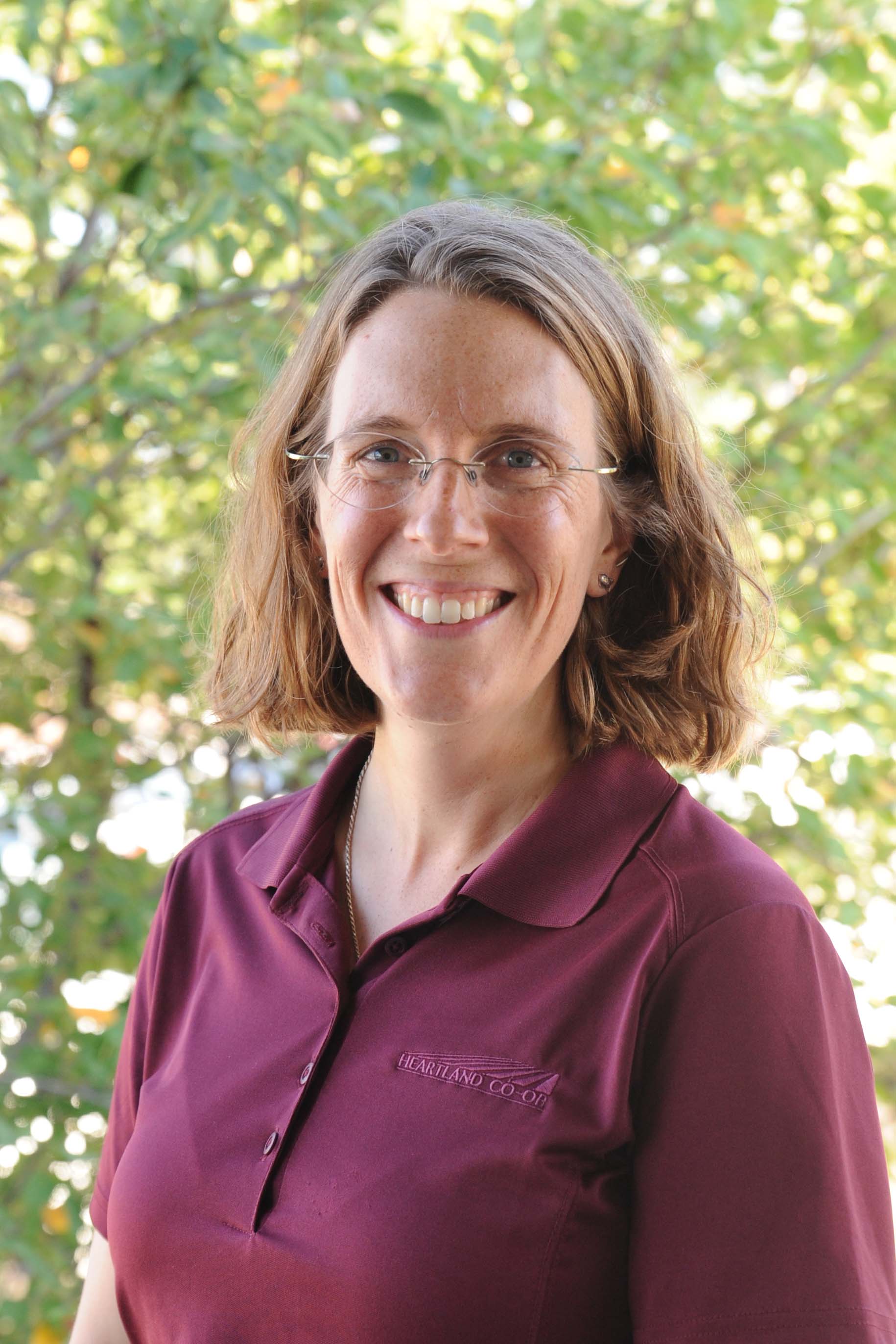 Ruth McCabe, Heartland Co-op Conservation Agronomist based in Central Iowa, is the 2022 winner of a statewide Impact Award for her outstanding commitment to water quality.
McCabe accepted the Impact Award for the Private Sector at the Iowa Water Conference in Dubuque on Thurs., Sept. 29 during the fifth annual IAWA Iowa Watershed Awards program. The award was developed by the Iowa Ag Water Alliance in partnership with Iowa State University Extension and Outreach, Conservation Districts of Iowa, The Iowa Department of Agriculture, and the Iowa Department of Natural Resources.
As a conservation agronomist, McCabe helps producers make business decisions on their farms that improve their profitability and sustainability. This is a critical role in improving the state's water quality long term.
"There is a conservation practice for everybody, so let's figure it out," McCabe said. "I'm really proud of the fact that I've found a way to help make conservation accessible to everybody."
In 2021 alone, McCabe's work directly led to a wide variety of conservation practices: nearly 10,000 acres planted to cover crops, a 147-acre prairie restoration in north central Iowa, 44 water-cleaning edge of field practices called saturated buffers and bioreactors, and one wetland project.
"It's important to recognize leaders in our Iowa communities who continue to make great progress implementing conservation practices that improve water quality," said Sean McMahon, IAWA Executive Director. "Ruth is at the cutting edge of leveraging the agricultural retail sector's and agronomists' trusted relationships with their farmer customers to deliver more conservation practices and implement  the  Iowa Nutrient Reduction Strategy."
McCabe works with farmers over most of Iowa, concentrating a lot of her efforts in the Greater Des Moines River and Middle Cedar River watersheds and their smaller tributaries.

Helping find conservation that fits each farm
Every farm in Iowa has unique challenges and operators. That's why McCabe finds practices that fit best with a farm's overall goals.
"Not every farmer wants to plant cover crops and that doesn't make him a bad person," she says. Instead, they may try edge-of-field practices such as bioreactors or saturated buffers. They're just as effective as cover crops at treating water quality," McCabe said.
Some of her farmer customers weren't familiar with bioreactors.  When they learn about those options, McCabe says they're excited about it because they can participate in conservation.
One of McCabe's favorite projects of the past year was restoring a 147-acre prairie.
"The hunter in me is very proud of that," said McCabe, who likes to spend time outdoors.
The prairie replaced a crop field that did poorly in wet years. This fits her own land use philosophy, shared by most farmers.
"I'm a big fan of keeping the best acres in production. I don't want to take prime farm ground out of production," she said.
Helping farmers with questions along the way
Just as sales agronomists answer farmers' questions about crop production inputs, McCabe helps her customers if they run into unexpected issues with conservation practices, even on weekends or in the evening. "You name it, I'm available," she says.
It's also important for her to support farmers in getting connected to financial incentives to help pay for water quality practices. These often come from government programs or nonprofit groups. That's where McCabe fits in for producers who may never have been in an NRCS office.
"I can be an intermediary for them," McCabe says.
McCabe has a B.S. degree in applied plant science from the University of Minnesota and an M.S. degree in crop physiology from Iowa State University. She's a certified crop advisor (CCA) and certified professional agronomist. 
Her current work is her dream job.
"I'm a hunter, an outdoor person, and a conservationist. The opportunity to combine those with agronomy seemed too good to be true, so I jumped at it," she says.
Additional 2022 winners include Tracy Peterson honored with the Public Sector Impact Award, and Hunter Slifka who received the Watershed Coordinator of the Year award.
The Iowa Agriculture Water Alliance (IAWA) is increasing the pace and scale of farmer-led efforts to improve water quality in Iowa. Founded in 2014 by the Iowa Corn, Soybean, and Pork Associations, IAWA is building public-private partnerships focused on implementing water quality solutions. Learn more at www.iaagwater.org.