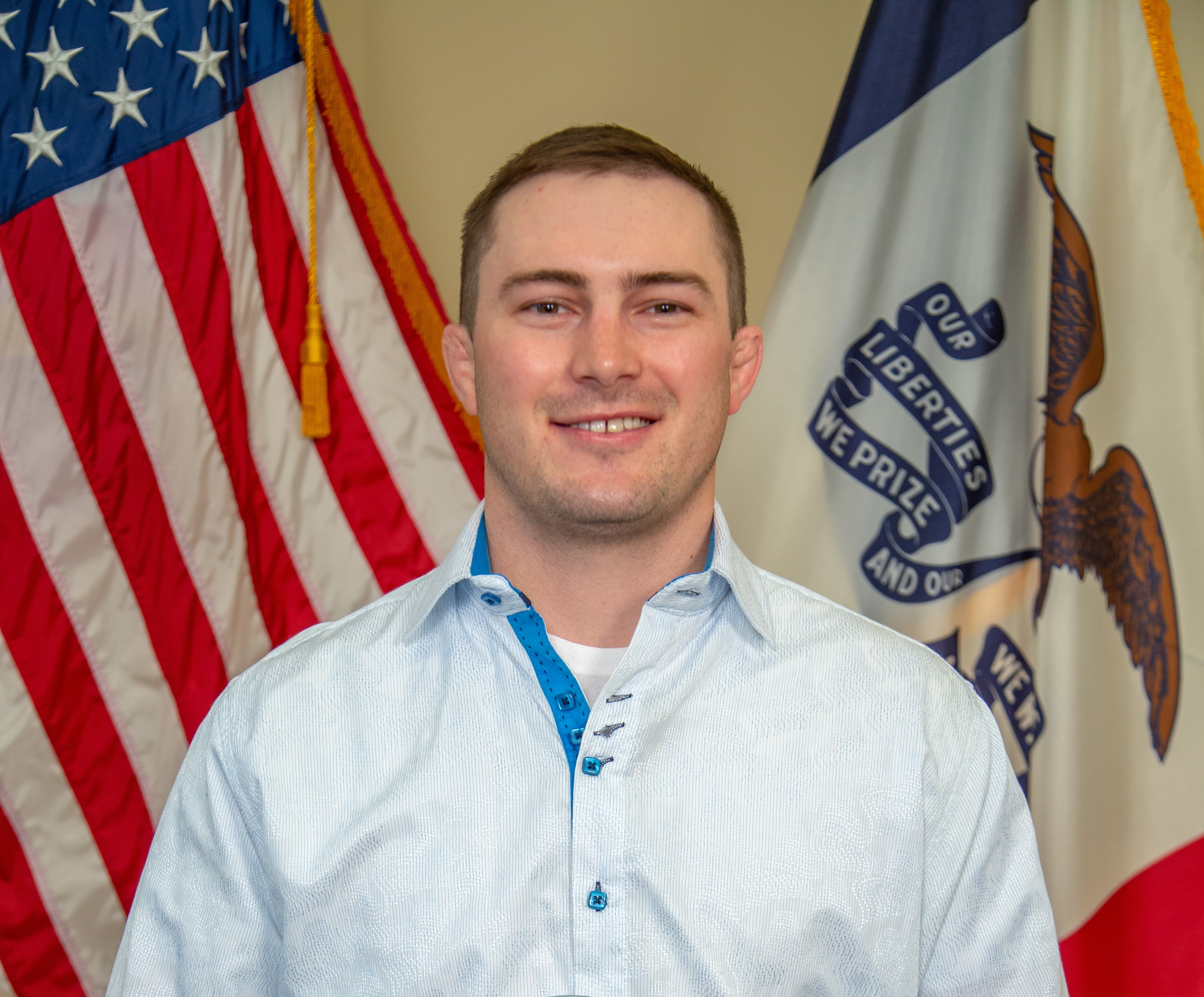 Hunter Slifka, watershed project coordinator for the Turkey River Headwaters & Chihak Creek in NE Iowa, was honored as the 2022 Watershed Coordinator of the Year by the Iowa Agriculture Water Alliance (IAWA) during the fifth annual Iowa Watershed Awards program.
With Slifka's dedication to water quality in his 62,000-acre watershed, cover crops have expanded from only 1,500 acres five years ago to 17,000 acres this past fall. This has a direct impact on water quality for his community and communities downstream. His work is also improving trout streams that feed into the Turkey River.
"Hunter has demonstrated dedication and commitment to his community through his work and his volunteer efforts. His collaboration with farmers, landowners, government agencies, and nonprofits is really making a difference," said Sean McMahon, Executive Director of IAWA. "That's the type of coordination we need to continue to see to improve water quality and successfully implement the Iowa Nutrient Reduction Strategy."
The IAWA Iowa Watershed Awards program was developed by IAWA in partnership with Iowa State University Extension and Outreach, Conservation Districts of Iowa, The Iowa Department of Agriculture, and the Iowa Department of Natural Resources.
Additional 2022 winners include Ruth McCabe honored with the Private Sector Impact Award, and Tracy Peterson honored with the Public Sector Impact Award.
Fostering a cover crop boom
Slifka is proud of nearly exponential growth of cover crops planted in the 62,000-acre watershed where he has been the coordinator since 2018. Now cover crop acres represent more than a fourth of the watershed's land area. Five years ago, it was only 2 percent.  
"If that's not exponential growth, it would be pretty danged close," Slifka said.
The practice protects soil from erosion until spring and keeps nutrients in place that otherwise could impair streams. This translates to long-term soil health benefits.
He credits three factors for fast adoption of the practice in his area.
First, farmers trust Slifka and his co-workers in the Howard County Soil and Water Conservation District office to help them navigate the application process for federal and state programs that help pay for cover crops and other practices. The fall deadline to sign up for USDA programs is typically in early October when farmers are busy with harvest.
"The number one thing in Howard County as a whole is trust. We've got willing farmers and landowners who take these leaps and give new practices a try," Slifka said.
Second, Slifka and other conservation workers go the distance to meet farmers out of the office, sometimes taking paperwork to them in their combine cabs during harvest.
"It's not just a 40-hour week. We often work 10 or 12-hour days," he said. Slifka has walked the 65 miles of river and streams in his watershed himself to monitor improvements in water quality, saving the county outsourcing dollars.
A third factor: Many conservation workers are local. Slifka grew up in the northern Iowa town of Cresco and he volunteers as a fire fighter, coaches wrestling, and chairs the local Pheasants Forever banquet. He recently started teaching fire safety to grade schoolers.  The avid outdoorsman joined the conservation district staff after graduating from Upper Iowa University with a degree in conservation management.
Slifka works with 432 farmers and landowners in the watershed who have installed more than $5.6 million worth of best management practices, including cover crops planted each fall, grassed waterways, and nine wetlands with five more planned.  What he calls a "bandwagon effect" now protects nearly half of the watershed.
State and federal government funds aren't the only support for the project. It also has thirteen partners, including Trout Unlimited, the Iowa Coldwater Conservancy, the Izaak Walton League, and Turkey River Pheasants Forever.
These new programs, added to earlier conservation work in the watershed, are improving trout streams that feed into the Turkey River. The streams have long been stocked with trout, but brown trout are now reproducing naturally in some of them.
To help maintain momentum for this work, the local SWCD will receive funding through the IAWA Iowa Watershed Award.
The Iowa Agriculture Water Alliance (IAWA) is increasing the pace and scale of farmer-led efforts to improve water quality in Iowa. Founded in 2014 by Iowa Corn, the Iowa Soybean Association, and the Iowa Pork Producers Association, IAWA is building public-private partnerships focused on implementing water quality solutions. Iowa farmers are actively engaged in various conservation efforts that improve water quality. Learn more at www.iaagwater.org.