Iowa Agriculture Water Alliance's Steadfast Leadership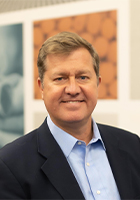 Sean McMahon | Executive Director
Sean McMahon works with key partners to champion farmer engagement and adoption of conservation practices that improve water quality. Sean has more than 20 years of experience in conservation and agriculture including leading diverse coalitions dedicated to improving water quality. He formerly directed The Nature Conservancy's (TNC) North America Agriculture Program. He also served as state director of the Iowa Chapter of TNC where he chaired the Iowa's Water and Land Legacy campaign. Prior to that, he directed national land stewardship campaigns with the National Wildlife Federation. Sean served in a variety of senior staff positions at the U.S. Department of the Interior. Sean is a member of the Farm Foundation Roundtable and serves on the board of the CropLife Foundation. He is also chair of the Conservation Reserve Program Subcommittee of the Iowa NRCS State Technical Committee, serves on an advisory body for the U.S. Soybean Export Council and the Iowa Farm Environmental Leader Award Selection Committee.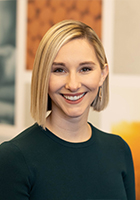 Rebekah Jones | Director of Communications
Rebekah drives the communication of water quality needs and strategies. A journalism graduate of The University of Iowa, Rebekah previously told stories around the country - talking to farmers in Iowa about the cost of land, growers in California about fruit production, and hearing from small business owners in Alabama about the importance of coastal conservation. In Colorado Springs, Rebekah anchored the weekday morning newscast for the CBS affiliate for four years and won a Regional Edward R Murrow award for her documentary about COVID-19. IAWA brings Rebekah back to her roots. She was raised on a corn, soybean, and cattle farm in Northeast Iowa and will always remember when her dad took her out to the fields, put soil in her hands, and explained what kind of topsoil is the backbone of their farm. She and her husband, Ryan, bought a farm with their family in 2022. Together they're planning conservation strategies to protect the soil and water for years to come.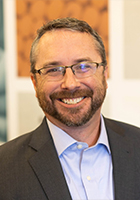 Rudy Kane | Operations Manager
Rudy specializes in operations and project management and works with the team to coordinate ongoing projects and deliverables. With more than 10 years of experience managing various operations and projects within the home mortgage department of a national bank, Rudy has a diverse background adjusting to the changing needs of day-to-day operations and projects. Having grown up in a small town in Northwest Iowa on the Big Sioux River, Rudy developed a passion for conservation after spending much of his childhood fishing the river or local sand pits and hunting along terraces for pheasants. He brings these experiences to his role and looks forward to working with IAWA partners and the team to further conservation in Iowa.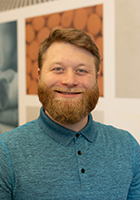 Adam Sodders | Communications Specialist
Adam supports communications efforts for IAWA and partners, combining his experience as a journalist with an interest in agriculture and conservation. Born and raised in central Iowa, Adam developed an interest in writing as a student at West Marshall Schools in State Center. He took his interest in storytelling down Highway 30, earning a degree in journalism and mass communication from Iowa State University. In his roles as an award-winning journalist and school communications leader, Adam has continued to grow as a writer and content creator. He is especially proud of his farming and conservation coverage for Marshalltown's Times-Republican newspaper. Adam is an avid fisherman and enjoys hunting and hiking all over Iowa. As a new father, Adam is now more than ever committed to using his skills to support, in concert with IAWA's partners, efforts to improve Iowa's water quality for future generations.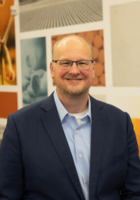 Chad Vogel | Development Director
Dr. Charles (Chad) Vogel comes to IAWA with considerable experience in obtaining funding for agricultural programming. Previously, he served the College of Agriculture at Iowa State University as Senior Director of Development and later became the Associate Dean of Advancement for the College of Agricultural, Consumer & Environmental Sciences at the University of Illinois. Chad is also a researcher, having obtained his PhD from the University of South Dakota. He writes mainly on philanthropy best-practices and how private funding influences organizations and the public at-large. In his prior role with the Iowa Soybean Association, Chad was the central point-of-contact for all grants and contracts with external partners of the Research Center for Farming Innovation, responsible for maximizing soybean check-off dollars through growth of external funding. Chad has this to say about joining IAWA, "I am honored to be working on behalf of water quality. I believe deeply that farming excellence begins with a love of the land itself and a passion for nourishing communities for generations to come."