Partnerships lead to new water quality feature at DMACC Dallas County Farm
By Adam Sodders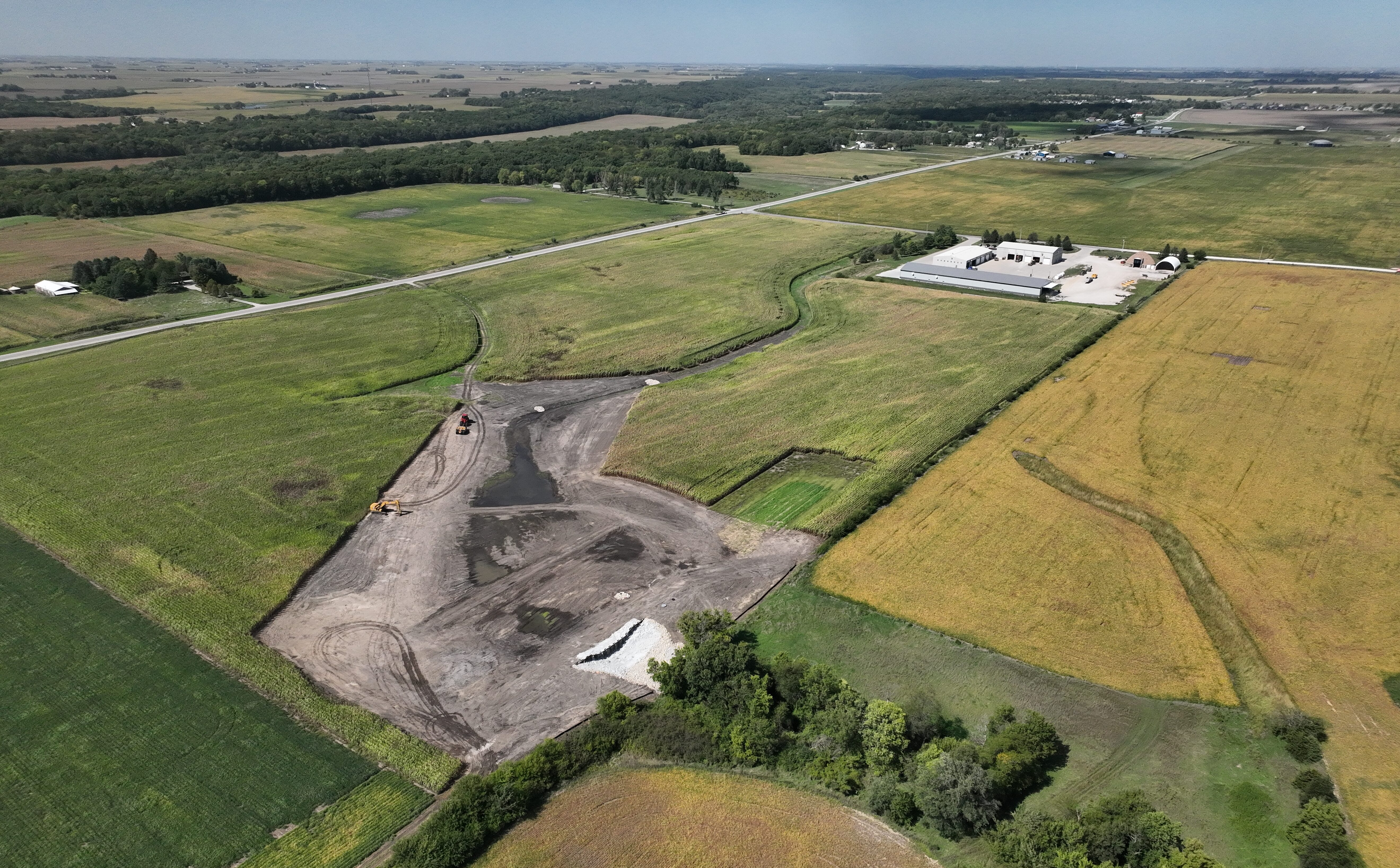 ADEL, Iowa (IAWA) – A once-troublesome mud puddle in a Central Iowa farm field has been transformed into one of the state's newest water quality wetlands.
The new wetland was completed in January at the DMACC Dallas County Farm near Adel. It resulted from a generous $140,000 donation from Prairie Meadows Casino, in partnership with Ducks Unlimited, the Iowa Department of Agriculture and Land Stewardship (IDALS), Dallas and Polk counties, DMACC, the Dallas Soil & Water Conservation District (SWCD), and the Iowa Agriculture Water Alliance (IAWA).
"The primary goal of this wetland is to reduce nitrogen loss," said IDALS wetland project coordinator Shane Wulf, adding that wetlands play an important role in the Iowa Nutrient Reduction Strategy.
At just 6.31 acres, the DMACC Farm wetland punches above its weight. It captures water from 346 acres of mostly tile-drained cropland in the important North Raccoon watershed, reducing the water's nitrate levels by 40-90%, according to Iowa State University research.
The outsized impact doesn't end there – the new wetland provides great habitat for local and migratory wildlife and reduces soil erosion. It will also support the learning of future ag producers and leaders.
"With our students, seeing is believing," said DMACC agribusiness professor Travis Lautner, whose curriculum brings students to the DMACC Dallas County Farm for hands-on education. "It helps them think about how they could do things differently."
Both Lautner and Wulf thanked the Citizens Dallas County, who own the property provided for the wetland project. The site is leased to DMACC, and a 30-year conservation easement is held by the Dallas SWCD.
Another portion of the $140,000 grant is going to expand "Batch and Build" – a streamlined strategy to get more edge-of-field practices implemented across the state of Iowa. 
Want to see this exciting new wetland up-close? Join IAWA, Ducks Unlimited, Dallas County and Polk County at the DMACC Farm from 1:30-2:45 p.m. on Wednesday, April 19, where we'll recognize the completion of this project with tours, enjoy hands-on education, and hear from wetlands experts and water quality leaders, including Iowa Sec. of Agriculture Mike Naig – RSVP here.
This grant would not have been possible without the proven success of partners in implementing water quality practices, including through the Iowa Systems Approach to Conservation Drainage (ISACD). This project provides funding and assistance to farmers and landowners to improve their land and water quality. Interested farmers and landowners should reach out to their local NRCS offices.
Published Tuesday, April 11