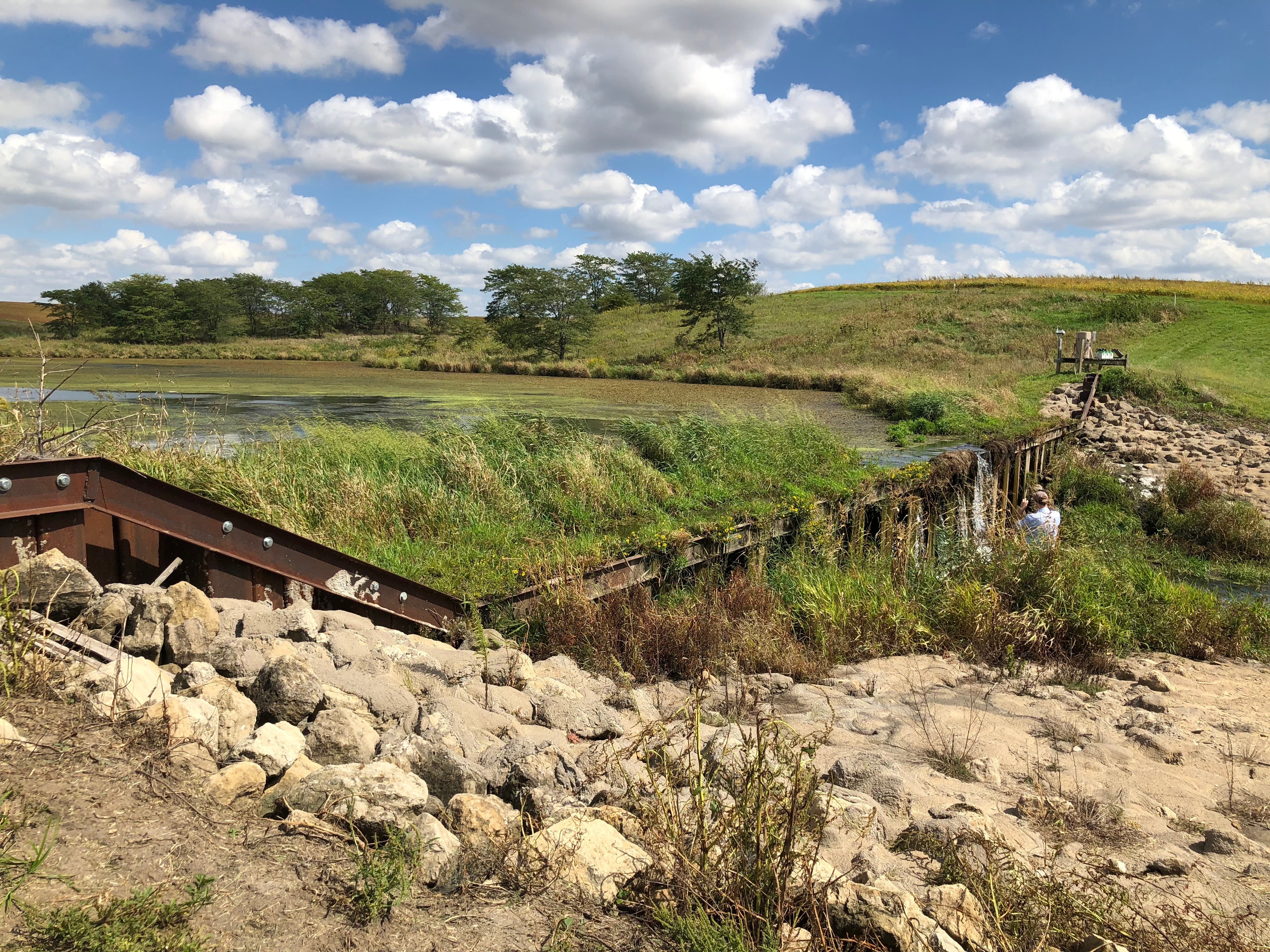 The Iowa Ag Water Alliance (IAWA) is celebrating Earth Week with a broadcast in Central Iowa about the multiple benefits of wetlands, including improved water quality, more wildlife habitat, and reduced flooding downstream. You can listen from 11 a.m. to 1 p.m. on WHO-AM 1040 during The Big Show's road tour, "Clean Water in Iowa Starts Here." 
Heath Stolee, who is hosting the show at his farm in Hardin County, operates a diverse 320 acres in Radcliffe with corn and soybean row crops and chestnut trees. 
In 2020 he restored a 16-acre wetland through the Conservation Reserve Enhancement Program (CREP), in partnership with the Iowa Department of Agriculture Land Stewardship and the U.S. Department of Agriculture. The wetland now treats water runoff from 1,900 acres, improving water quality for the town of Radcliffe. 
Wetlands are a powerful tool to reduce excess nutrients in communities' water. On average they remove 52 percent of nitrogen and 85 percent of phosphorus from water, according to the Iowa Nutrient Reduction Strategy. 
Land that needs to be restored into wetlands is usually some of the least productive land on the farm, making it an easy decision for Stolee. 
"With input costs the way they are, can you afford to have your crop drown? Utilizing the programs that are available to restore and protect wetlands benefits not only the farmer, but your neighbors, and your community as a whole. You have the opportunity to make a difference!" said Stolee. 
ISU research shows 900 acres of CREP-restored wetlands in Iowa remove over 600 tons of nitrogen per year. The effect is comparable to retiring about 44,000 row crop acres, illustrating the disproportionate benefits of wetlands as a water quality solution.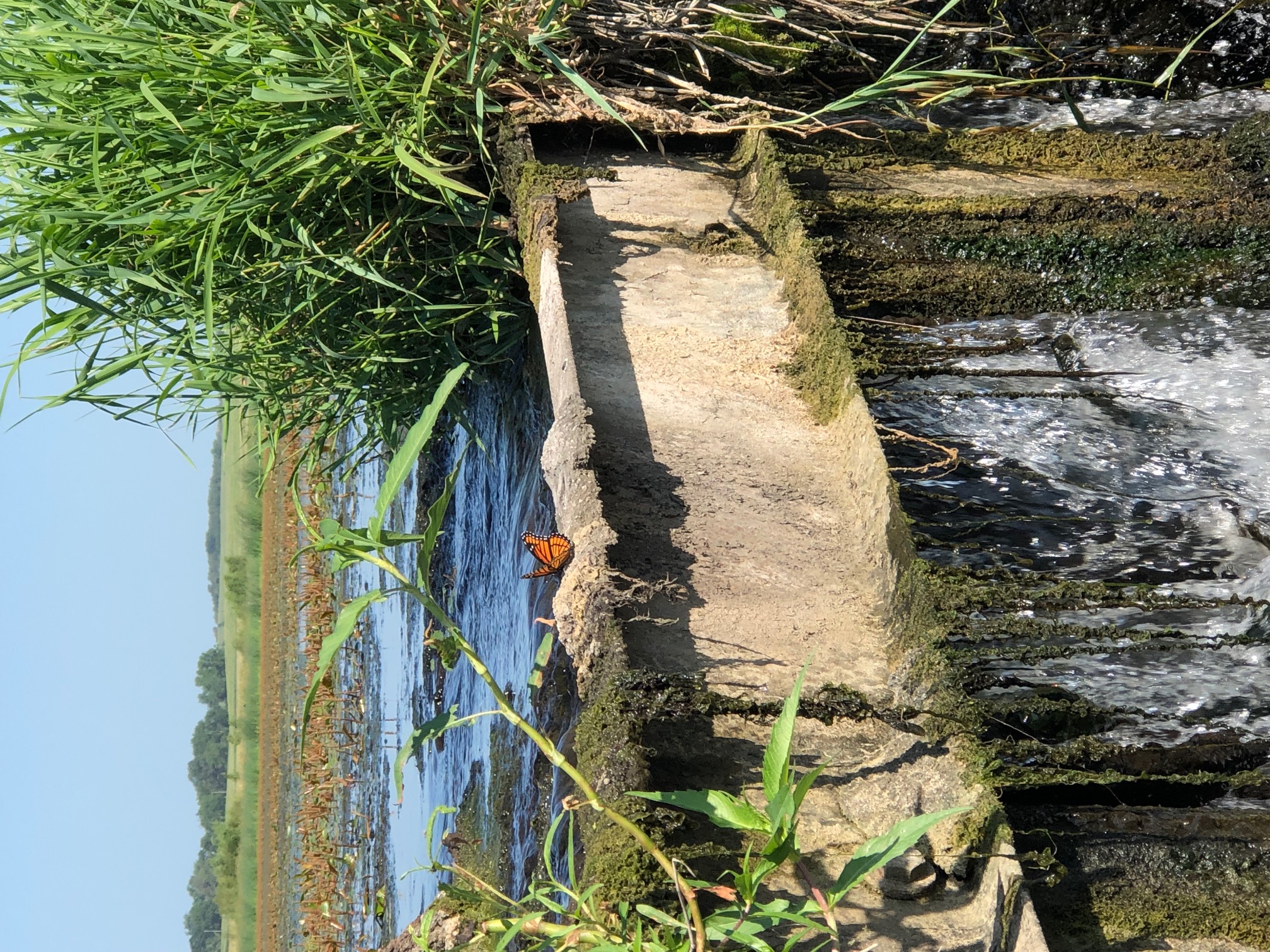 Put more simply, every acre of wetland restoration is the equivalent of stopping nitrogen loading from nearly 50 acres of row crops. 
"Wetlands provide farmers with an opportunity to take unprofitable acres out of production and reinvest that misallocated capital into the revenue producing zones within a field," said Sean McMahon, Executive Director of IAWA. "Wetlands are a win-win-win for water quality, farmer profitability and wildlife habitat." 
$7 million Wetland Reserve Easement grant awarded to IAWA 
CREP is just one of several programs available to restore wetlands in Iowa.  
IAWA was recently awarded a $7 million agreement through USDA-NRCS's Wetland Reserve Easement program. Under the agreement, IAWA is partnering with RES, the nation's largest ecological restoration company, to get the NRCS-funded wetland restoration work done on farms across the state. 
Through WRE, farmers receive both financial and technical assistance to help conserve wetlands by entering into a permanent conservation easement with NRCS.  
These agreements are critical to water quality progress since 75 percent of wetlands are located on private and tribal lands, according to NRCS. 
Important habitat for birds and other wildlife 
Iowa is part of the Mississippi Flyway, and wetlands and lakes provide important migration habitat for waterfowl. Iowa has lost nearly all its historic wetlands that were once refuge for many migrating birds, according to Mike Shannon, a biologist with Ducks Unlimited.  
"Today, remaining wetland habitat is important for breeding waterfowl such as mallards, blue-winged teal, and trumpeter swans, as well as thousands of migrating waterfowl that depend on Iowa's wetlands as pit stops as they migrate from as far north as the Arctic to southern wintering areas like the Gulf of Mexico," said Shannon. 
Ducks Unlimited focuses on restoring or enhancing wetlands on public lands, working with DNR to improve habitat in just about every county in the state. 
Part of the bigger picture 
Wetland restorations are one of many conservation practices needed to improve Iowa's water quality and to meet the goals of the Nutrient Reduction Strategy. 
IAWA partners with the Iowa Department of Agriculture and Land Stewardship to lead two Regional Conservation Partnership Program (RCPP) projects that help farmers implement strategies that work for them.  
"We are laser focused on working with farmers, landowners and communities to accelerate the adoption of science-based conservation practices in Iowa," said IDALS Secretary Mike Naig. "As a leader in environmental sustainability, Iowa has more than two million acres of cover crops, nearly 50 nitrate-reducing wetlands under development and more than 100 edge-of-field conservation practices being implemented." 
Two public-private partnerships co-led by IAWA and IDALS, The Iowa Systems Approach to Conservation Drainage, and the Midwest Agriculture Water Quality Partnership provide financial and technical resources for farmers to implement not only wetlands, but cover crops, no-till, saturated buffers, and bioreactors, among others. 
If you're a farmer or landowner interested in conservation, reach out to your local NRCS office to learn more about funding.