By Melissa Miller, Guest Writer
*Editor's note: This post is part of a Mother's Day series featuring mothers in ag and on the farm. Melissa Miller is our first guest writer in the series. Her family farms in Hardin County, Iowa and have added multiple conservation practices to their farm. 
---
My Twitter profile, in just a few characters, sums up everything you need to know about me:
I like it when I'm outside.
Farmer's wife.
Moderately successful mother.
Of course, this isn't who I always was. I grew up in Davenport, Iowa and the first time I visited a farm was in 2007, shortly after my now-husband and I started dating. He brought me up from Ames to Hardin County to meet his parents and see the farm. 15 years later – 13 of those married, with three daughters ages 11, 8, and 6 – we live on the Century Farm his great-grandparents built. My heart swells with gratitude for the blessing of being able to raise our girls here and the sacrifices my in-laws made to incorporate us into the farm when we moved back home after a year in Maryland early in our marriage.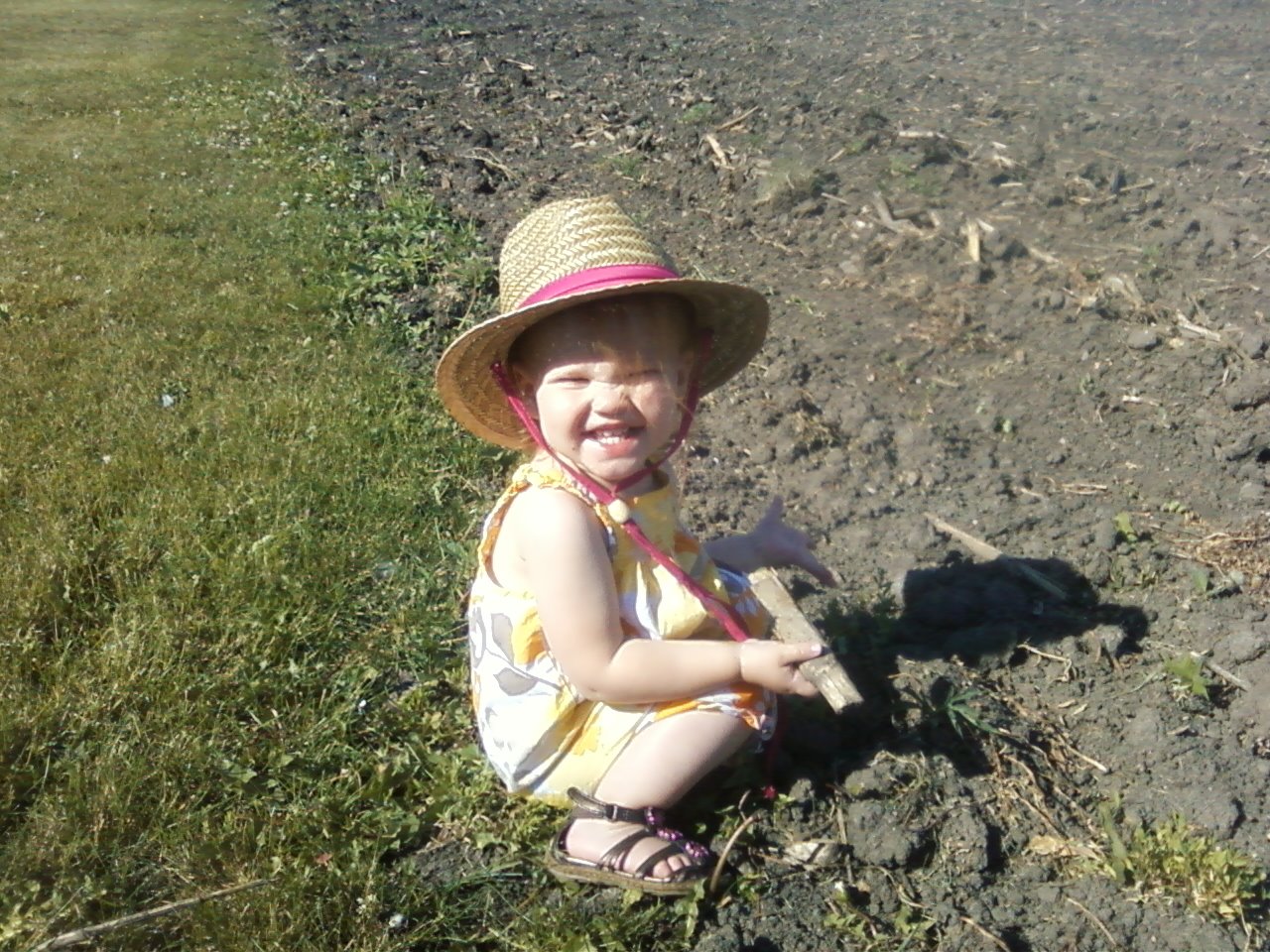 I joke about being a moderately successful mother, but the truth is, I'm far more successful as a mother than I am a farm wife. It took me three growing seasons to be able to tell the difference between a corn sprout and a bean sprout. When people find out that our family farms, I feel the need to explain to them that I'm not allowed to touch the equipment (accident-prone), I only bring meals out to the field on occasion (they barely break to eat), and I've never sorted pigs like my mother-in-law, Jean (biosecurity, and, well, a lack of patience).
When I think about my husband's grandmothers, who both passed away in the last year, I feel that I don't hold a candle to Georgia, who made hot meals out of a camper during harvest, or Marie, whose obituary read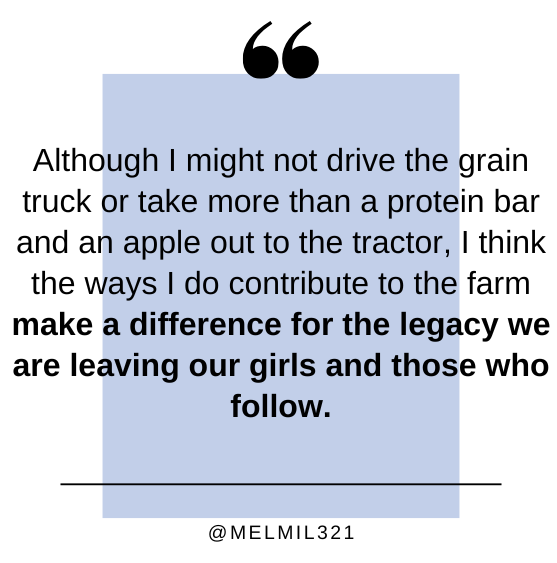 "Marie was a true farm wife, working beside Carl, milking the cows on their dairy farm and helping in every capacity on the farm."
Both of these women were "true farm wives" well after they moved to town. My daughters and I spent most Saturday mornings the last ten years visiting with them, and we learned so much from them about kindness, generosity, hard work, and love for our home, our community, and the land that we farm. And although I might not drive the grain truck or take more than a protein bar and an apple out to the tractor, I think the ways I do contribute to the farm make a difference for the legacy we are leaving our girls and those who follow.
From 2012-2020, I worked for the Iowa Water Center at Iowa State University and was immersed in basic and applied research that focused largely on agricultural best management practices to improve water quality. This work led to a lot of conversation at home about how we can manage our land, whether that be planting cover crops, reducing tillage, increasing buffers around waterways, or putting vulnerable acres into CRP. While most of the land we farm is rented, we maintain good and open relationships with our landlords and know that they share our commitment to being good stewards.
I might be a bit biased, but our daughters are brilliant, kind, and hardworking young ladies that love our home and our farms as much as we do – and their grandparents and the generations before them. We don't know if they will want to come back and farm or even live in this area, and we encourage them to go out and experience the world. But if they do, they will come back to healthy soils, clean water, and the beautiful rural Iowa landscape. When I think about it this way, maybe I'm doing better than moderately successful – as both a mother and a farm wife.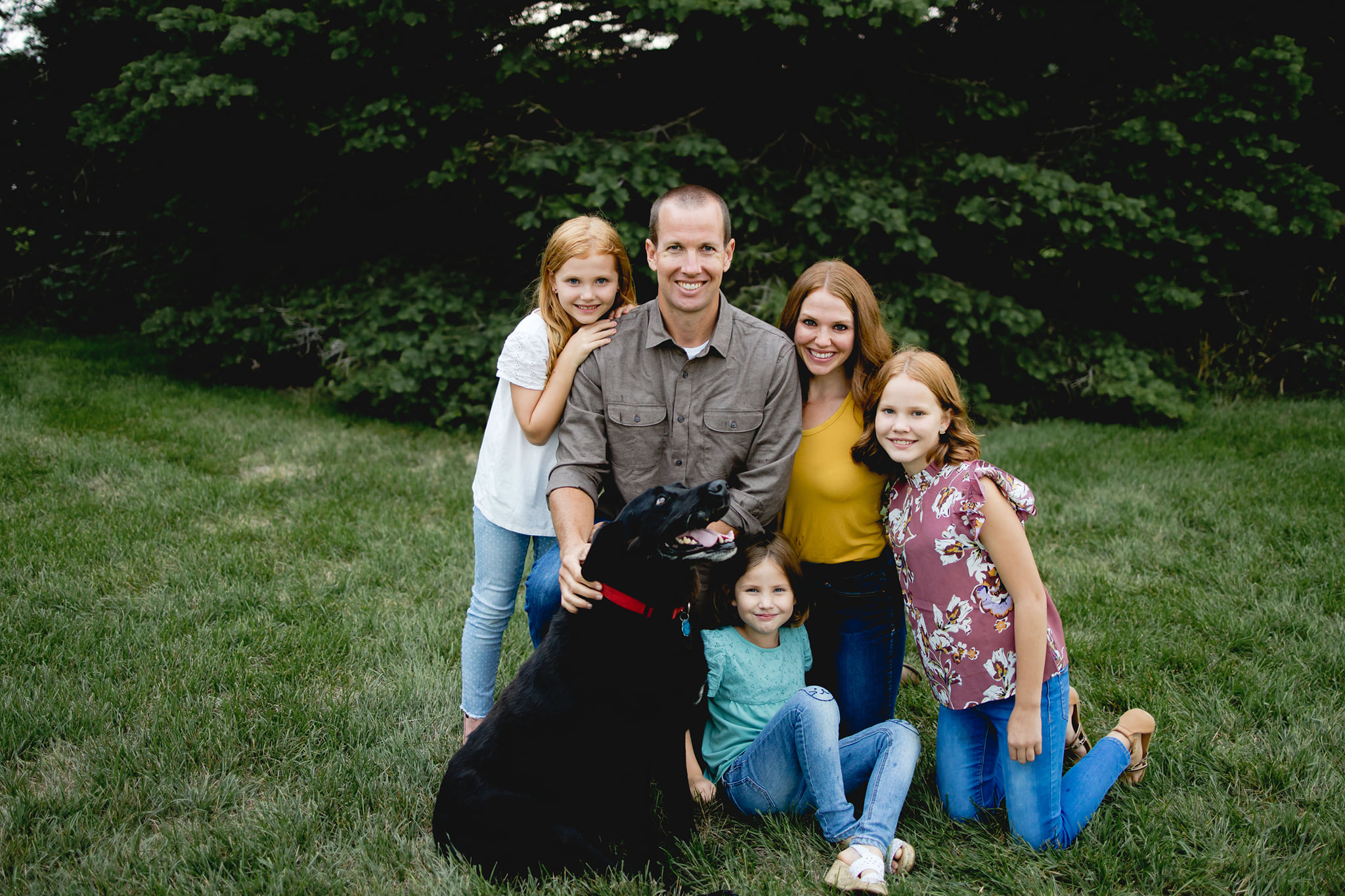 If you would like to partner with IAWA on water quality projects, please email Engagement Manager Kaitlin Little at klittle@iaagwater.org. If you're a farmer or landowner looking for financial assistance for water quality strategies, contact your local NRCS office and ask if you qualify for RCPP funding. This story features Hardin County which is eligible for Iowa Systems Approach to Conservation Drainage RCPP funding for water quality practices.  
Published on May 3, 2022.