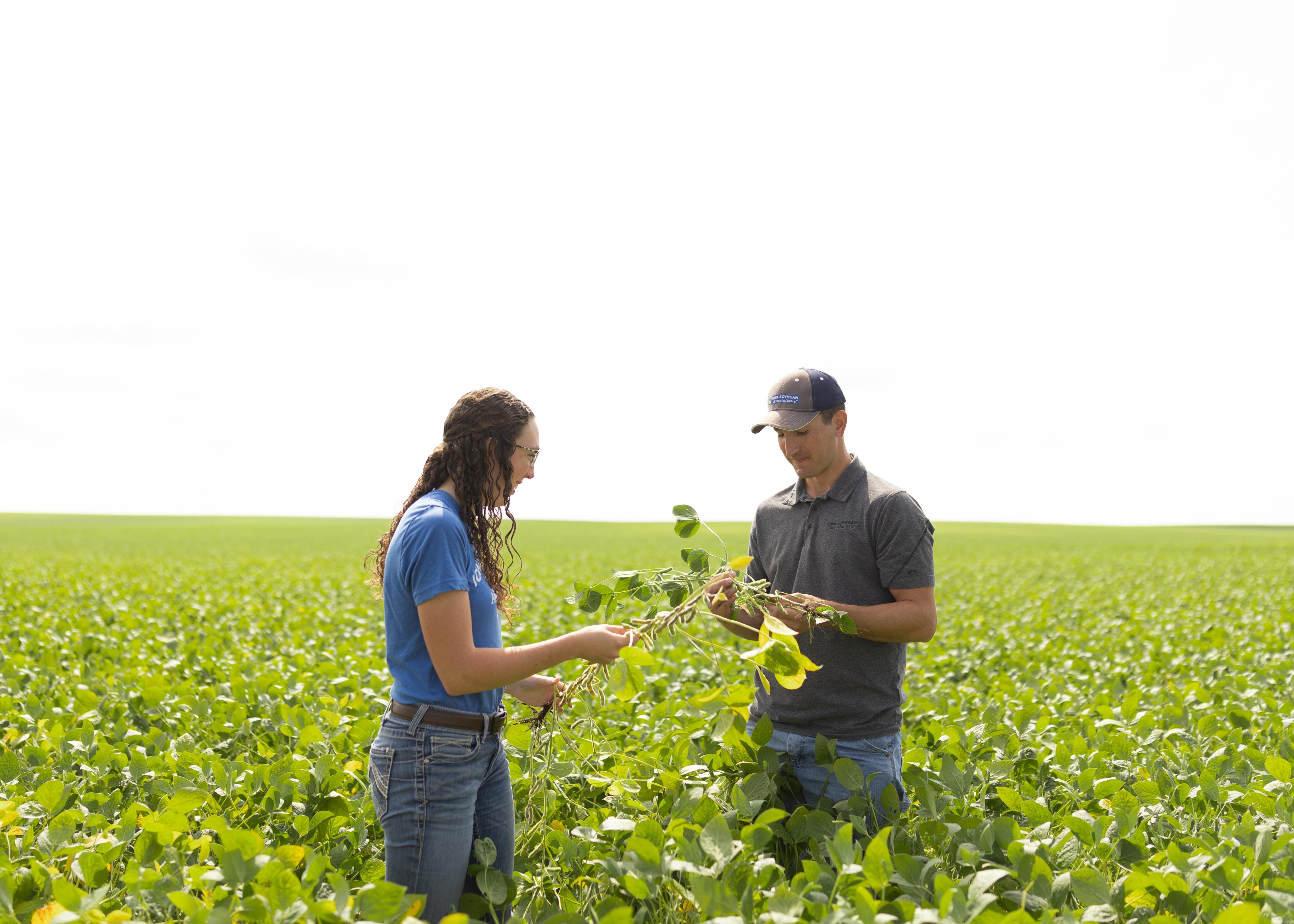 By Kaitlin Little 
Five years ago, the job title "conservation agronomist" didn't even exist. Now it's a growing network expanding across the state, thanks to Iowa Soybean Association's (ISA) efforts to build a trustworthy conservation source for farmers. 
Conservation agronomists are agronomic experts who can help farmers with decisions that both improve profitability and water quality. Many work out of ag retailer locations. 
"ISA's growing conservation agronomist network is designed to pair in-house conservation expertise with ag retail partners' farmer clientele base to help them successfully adopt conservation practices that improve the farmers' bottom line," said Heath Ellison, CCA and Senior Field Services Program Manager with ISA.  
Ellison helped kick off the Conservation Agronomist Network three years ago. Since then, ISA has partnered with Heartland Coop, Ag State, Nutrien, New Coop, Landus, CFE, and Linn Coop to embed conservation agronomists in ag retail locations throughout Iowa to help scale up adoption of more conservation practices.   
Rosie Roberts is one of five conservation agronomists in ISA's expanding network. She works out of the Cooperative Farmers Elevator's Rock Valley office in northwest Iowa, and she's making sure conservation practices pencil out for her farmer customers.  
The process doesn't stop with the decision to try something new. Conservation agronomists like Roberts support farmers through the entire process to make sure it's successful. 
"Whether it's recommending a practice to fit a resource concern, guiding someone through associated challenges, or connecting farmers to financial support options, you can turn to a conservation agronomist," said Roberts. 
The Iowa Ag Water Alliance (IAWA) helps fund ISA's conservation agronomists. IAWA's mission centers around supporting farmer-led conservation. That's because every farm has unique challenges and solutions, and every farmer knows their operation best. 
"Federal and state cost-share programs are very effective at reaching farmers who are innovators or early adopters of conservation practices," said Sean McMahon, Executive Director of IAWA. "But if we're going to successfully implement the Iowa Nutrient Reduction Strategy, we must reach the middle and late adopter farmers. Conservation agronomists are helping us do just that, which is why we've raised and contributed well over one million dollars to support these positions," said McMahon. 
On the eastern side of the state, Emery Davis works as a conservation agronomist out of Heartland Co-op.  
"The first thing I do is learn as much about the farmer and their operation as possible. I visit their farm, and I talk to them about their needs. My job is to help them navigate the conservation farming journey and remove barriers to adopting conservation practices," Davis said. 
An important part of that process is providing resources, including doing research on farmers' behalf. 
"It's important that farmers know they can trust me to provide truthful information. This means that sometimes, my response is 'I don't know, but I'll find out,'" said Davis. "And I always make sure to follow up when I say that!" 
In addition to Davis, Heartland Co-op has two other conservation agronomists on staff. Heartland Co-op saw their farmer customers had a need for conservation expertise and stepped up to provide that service to them.  
"There's a growing demand from our farmers to help them navigate the agronomics of conservation adoption and the complexities of the state, federal, and private programs available," said Thomas Fawcett, Director of Environmental Resources with Heartland Co-op. "Our conservation agronomists help our farmers with cost-share opportunities and determine ways to make the conservation practices economically viable." 
The three conservation agronomists on Heartland Co-op's staff also provide education and resources to other farmer-facing staff at the coop, such as Certified Crop Advisors and sales agronomists. Those colleagues help to identify additional farmer customers who are interested in conservation practices and refer those farmers back to the conservation agronomists, allowing them to reach even more farmers. 
The Iowa Department of Ag and Land Stewardship has welcomed their private sector counterparts to the conservation space. These partnerships are critical to long term success of water quality improvements. 
"In our conservation efforts, we often encounter situations that require thinking beyond just one organization or group," said Iowa Secretary of Agriculture Mike Naig. "Projects like these require partnerships to turn ideas for solutions into a reality, and they simply wouldn't be possible without the private sector."  
Published on Wed., June 8, 2022