Improving Conservation Infrastructure Requires Collaboration, Continuous Improvement & Sustained Effort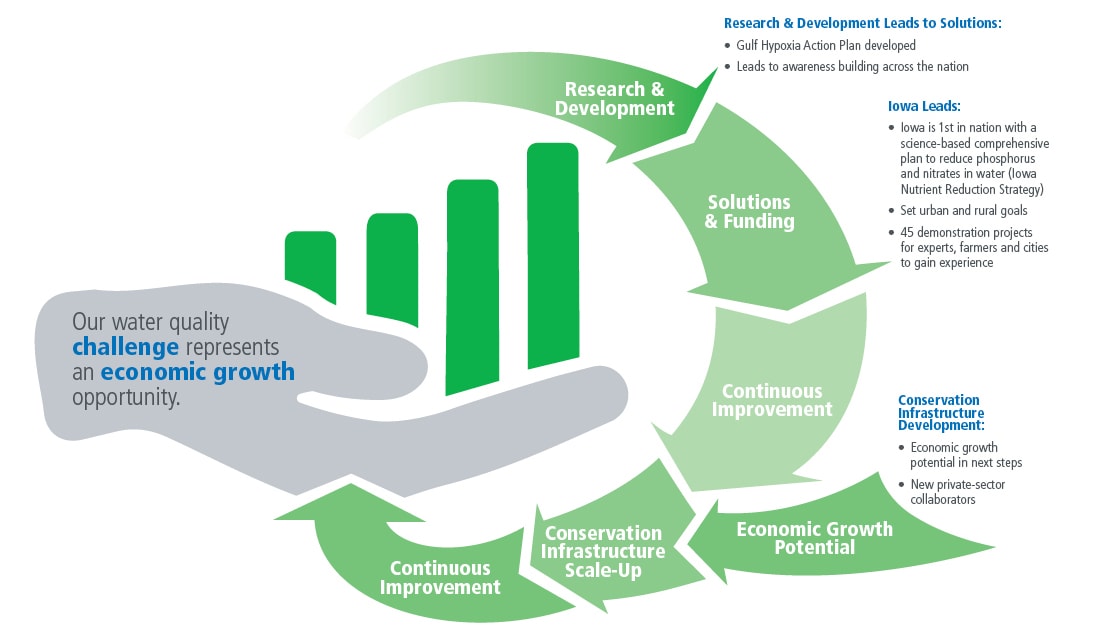 Our water quality challenge represents an economic development opportunity. Iowa's 88,000 farmers managing 23M acres on 12 different major soil types are facing severe weather events and water quality challenges. The science-based Iowa Nutrient Reduction Strategy offers a suite of practices that can help reduce phosphorus and nitrate in water. The estimated opportunity for two of these practices – cover crops and bioreactors – is representative of other possibilities for economic growth and innovation as we continue working toward improved water quality. 

Solution: Cover Crops
Need: 12-17M acres
Current status: ~500K acres
Future opportunities:
300,000 acres of seed production
300 aerial seed applicators
Special planters
Seed cleaners
17,000 semis to transport seed
Expertise necessary:
Agronomists
More research

Solution: Bioreactors*
Need: 100,000 - 140,000 across state
Current status:  ~60 completed
Future opportunities:
Enough wood chips to fill 109,000 rail train cars, which would equal the distance from Des Moines to Boston
~120,000 site plans
~240,000 site investigations
~180,000 water control structures
Expertise necessary:
Engineering and soil science
Construction contractors
Monitoring/Data interpretation
Management/Maintenance
*Saturated buffers may be used at some locations
Iowa's Water Quality Challenge Represents an Economic Development Opportunity
Below is a complete list of participating partners of Conservation Infrastructure.
Agri Drain Corporation
Agribusiness Association of Iowa
USDA Agricultural Research Service
Agriculture's Clean Water Alliance
Agrium
AgSolver
Bolton & Menk
City of Cedar Rapids
Conservation Districts of Iowa
Central Valley Ag Co-op
Iowa Drainage District Association
DuPont Pioneer
Eco Engineers
Ecosytems Services Exchange
Farm Nutrients
Farmers
Hagie Manufacturing
Heartland Co-op
Houston Engineering, Inc.
Iowa Cattlemen's Association
Iowa Corn Growers Association
Iowa Department of Agriculture and
Land Stewardship
Iowa Department of Natural Resources
Iowa Economic Development Authority
Iowa Farm Bureau Federation
Iowa Finance Authority
Iowa League of Cities
Iowa Pork Producers Association
Iowa Poultry Association and Iowa Egg Council
Iowa Soybean Association
Iowa State Dairy Association
Iowa State University
Iowa Turkey Federation
IS Group
Jacobson-Westergard & Associates
La Crosse Seed
Land Improvement Contractors Association
Mosaic Company
Natural Resources Conservation Service
Peoples Company
Pheasants Forever
Practical Farmers of Iowa
Syngenta
The Fertilizer Institute
The Nature Conservancy
U.S. Geological Survey
United Suppliers
University of Iowa
Verdesian Life Sciences
Vermeer
WinField