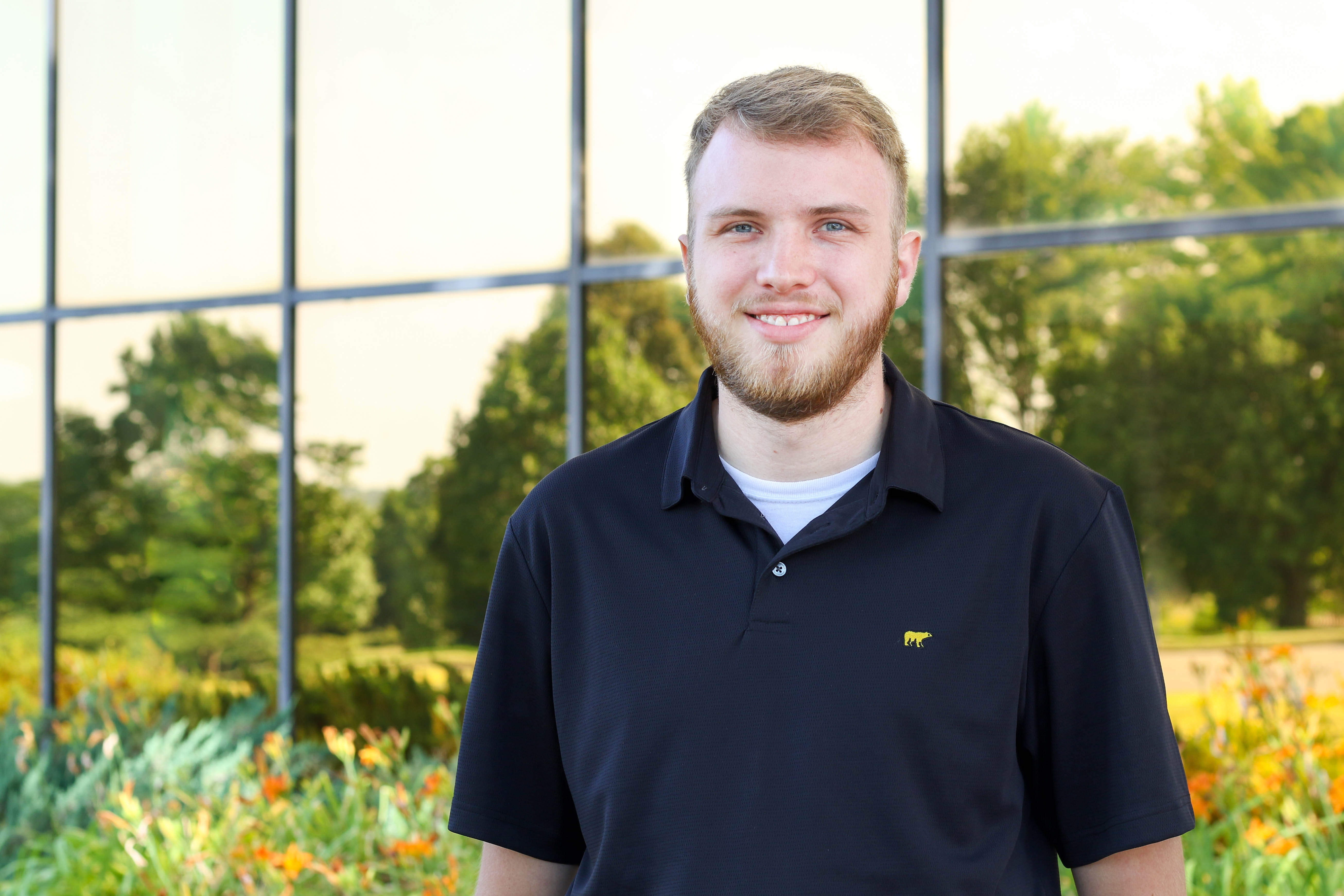 By Dan Looker, IAWA contributor
Tanner Puls has been the state's new edge-of-field coordinator only since April 1.  Every day is different as he works to meet the goals of Iowa's Nutrient Reduction Strategy.
Based at the Iowa Department of Agriculture and Land Stewardship (IDALS,) he works mainly with watershed coordinators around the state. He hopes to replicate a successful central Iowa approach to getting large batches of water-cleaning, edge-of-field (EOF) practices installed easily for groups of landowners. Edge-of-field (EOF) practices are an effective way to sharply lower nitrates leaving a field, without interfering with a farmer's cropping practices.
On one day, Puls may answer questions on how the two main practices he promotes—saturated buffers and bioreactors—are built.  They haven't been used in all parts of Iowa. On another day, watershed workers already familiar with them may want to learn how to work with local governments to bundle construction through one contractor or one engineering firm.
"I'm making myself a resource as they need help with anything," Puls says. 
Creating a template for success
The model that Puls helped with — what's now called the batch and build approach –started almost four years ago in Polk County, which still has large areas of farmland outside of the state's capital city. At the time, Puls was a Polk Soil & Water Conservation District watershed coordinator based in Ankeny. He brainstormed with Polk County Watershed Management Authority Coordinator, John Swanson, as well as Keegan Kult, Executive Director of the Agricultural Drainage Management Coalition, and others to find ways to speed up installation of EOF practices.  At the time, about one a year was being built.
The goal was to "reduce the paperwork and hassles" for landowners trying to get cost share funds that pay for each EOF practice, Puls says. For government entities promoting practices, "the goal of the batch and build model in the first place was to take advantage of economies of scale."
To do that, the team designated Polk County as a fiscal agent. Instead of each individual farmer applying for cost share funds and being responsible to use them to hire contractors, the fiscal agent does all of that for a group of landowners. The agent also provides a $1,000 temporary construction easement payment to the landowner for each tile outlet connected to a saturated buffer or bioreactor.
"That $1,000 helps get us in the door and we were still able to save a lot compared to the traditional approach to practices," Puls says.
Early progress
Puls and Kult sent personalized letters to farmers and landowners and followed up with phone calls. The response was positive. Well over 100 potential sites were surveyed, and in 2021, 51 edge-of-field practices went into the ground.
"We had one landowner who installed over 20 practices on multiple fields," Puls recalls.
That first batch had 41 saturated buffers and 10 bioreactors. The total cost for all 51 was $426,077.
"We'll primarily target saturated buffers if we can and if it doesn't work in that area, we'll do a bioreactor," Puls says.  Saturated buffers cost less–$5,000 to $8,000 versus $15,000 to $20,000 for a saturated buffer. And they have less long-term maintenance.
Looking ahead
One contractor has finished installations in southern Polk County and is now working in the northern part of the county, Puls says. After that, the contractor will move on to Story County. There the city of Ames is acting as a fiscal agent to bundle 20 EOF practices set to finish installation this year.
Beyond that, Puls is working with a project that has potential to be even larger. The Middle Cedar watershed batch and build near Cedar Rapids will involve six counties. It already has four primary coordinators — two employed by IDALS, one by a conservation district, and an agronomist with Heartland Co-op.
"They've got a lot of good sites, so I think that will be a really cool project when it gets going," Puls says.
Meanwhile, Puls continues taking phone calls from others who want to learn about batch and build.
"There are a lot of watershed coordinators who have shown an interest," he says.