More landowners sign up for nitrate filtration practices in farm fields thanks to a visionary new public-private partnership approach that is turnkey and systems-based
By Kurt Lawton
Creating a scalable system that can move the needle faster to reduce nitrate in Polk County watersheds began by rethinking the entire process of marketing and delivery of ag water quality infrastructure.
Skilled as a Fortune 500 business transformation consultant, Polk County Soil & Water Conservation District (SWCD) Commissioner John Norwood brainstormed with Agri Drain President Charlie Schafer about the possibility of targeting saturated buffers or bioreactors on all tile outlets in a concentrated watershed area.
"We know saturated buffers and bioreactors help reduce nitrate, but the strategy of installing practices one-at-a-time and trying to attract demand using field days wasn't getting the traction among landowners that we needed to help meet the Iowa Nutrient Reduction Strategy," Norwood says. "Only six outlets had been treated in Polk County from 2015 through 2019."
Over coffee after a chance meeting at a field day, Schafer and Norwood envisioned building a scalable process to remove landowner barriers so they could install 25 to 50 of these practices in Polk County during 2021. If successful, they could replicate this model in priority watersheds across Iowa.
"Polk SWCD is fundamentally a learning organization," Norwood says. "We learn how to do hard things in new ways that can accelerate our mission, de-risk them, and then share our learning."
Thanks to this vision — carried out during 2020 by key people within an improved framework of a public-private partnership — 51 edge-of-field (EOF) practices are being installed this summer. There are 100-plus more practices in process for 2022 installation, now spanning a three-county area in the Des Moines metro (Polk, Dallas, and Story).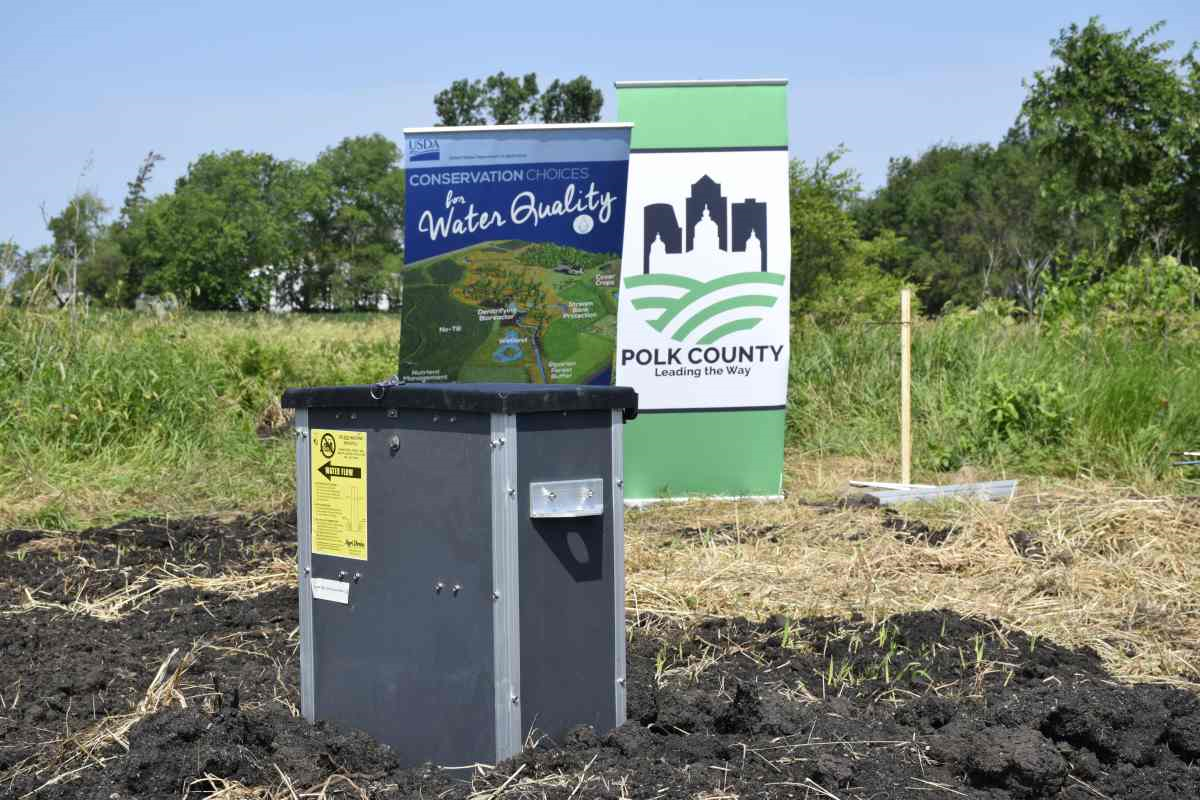 Transform the process
The new approach, designed to address critical barriers, was developed by a team of hard-working staff representing Polk County, Polk SWCD, USDA-Natural Resources Conservation Services (NRCS), the Iowa Department of Agriculture and Land Stewardship and the Agricultural Drainage Management Coalition (ADMC). The team's goals:
Methodically target landowners by focusing on high-value drainage tile outlets in priority watersheds, focusing on one or two EOF practices.
Develop a new turnkey funding model that minimizes landowner hassles and drives down the unit costs of installation.
Group EOF sites together for more efficient survey/design/construction.
Package project bids in different grouping sizes to find out what size and scope is most efficient and effective.
Schafer, who also serves as Board Chairman of ADMC and is a member of the IAWA Business Council, recommended a 'blitz' approach to the installation because constructing many EOF practices in a small area is more efficient for drainage contractors to mobilize and deliver versus the old approach of addressing one tile outlet at a time.
John Swanson, Polk County watershed management authority coordinator, recognized early on the value of a streamlined process to install 10 to 20 of the practices at a time in a targeted area.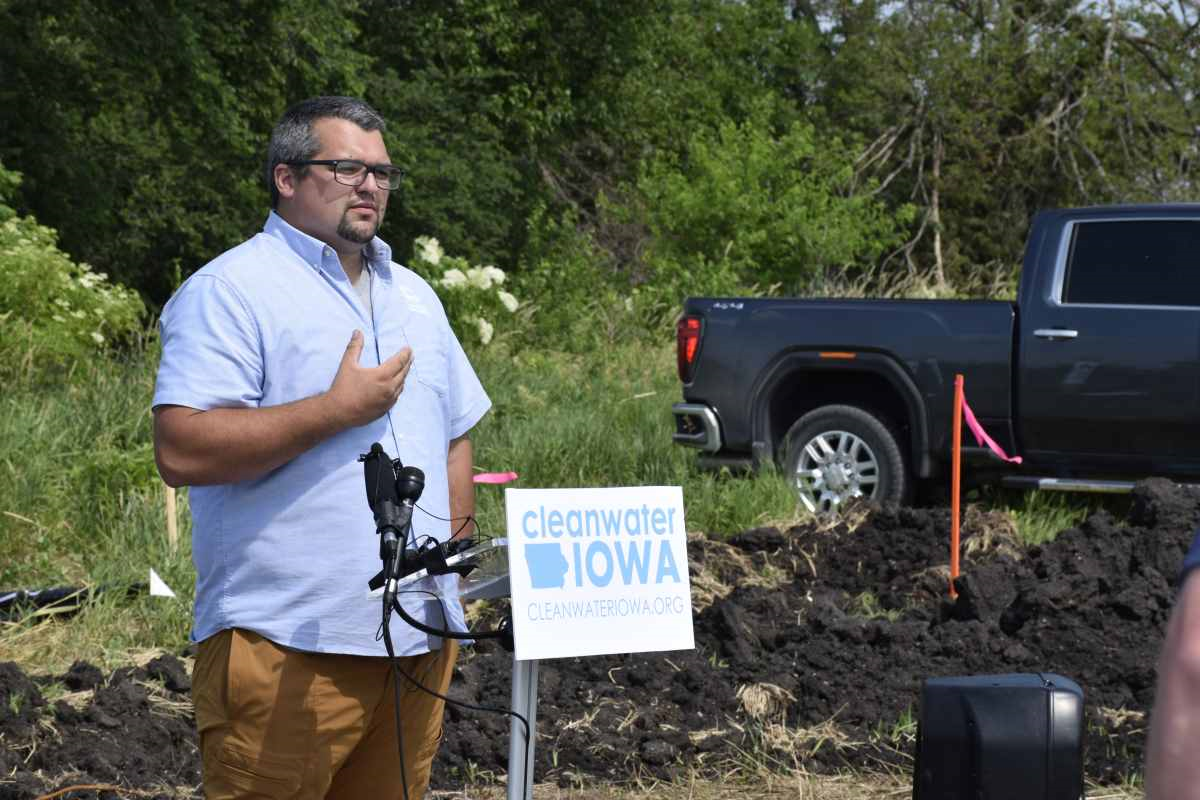 "We had installed about half a dozen saturated buffers and a couple of bioreactors, but some of our watershed plans like Fourmile Creek called for treating 100 tile outlets," he shares. "Ideally, if we created a new model to handle multiple installations, we could achieve greater efficiency in surveying, designing, and constructing these practices."
Norwood and Swanson's many conversations about this concept with city and county supervisors led to farm, conservation, and water quality groups jumping onboard. A team was formed with Polk SWCD Watershed Coordinator Tanner Puls, ADMC Executive Director Keegan Kult, and Shane Wolf, Environmental Specialist with the Iowa Department of Agriculture and Land Stewardship to develop the details of the plan.
Sean McMahon, Executive Director of the Iowa Agriculture Water Alliance (IAWA), was among the first of numerous partners to enthusiastically support the new concept. "Building a framework and process to move beyond single-practice installations for edge-of-field practices has long been a goal for scaling implementation of the Iowa Nutrient Reduction Strategy," says McMahon. "We're excited to help replicate and transfer this successful pilot model to additional counties and watersheds across the state."
Maps define landowner outreach
With Fourmile Creek being the pilot watershed for this effort, the team employed a new strategy for landowner outreach. First, they used Agricultural Conservation Planning Framework (ACPF) maps to prioritize fields and tile outlets where a saturated buffer or bioreactor would likely be feasible and treat the most acres. Second, they contacted targeted landowners/decision-makers that owned those outlets, offering a proposal that was easier to accept.
"We knew we had to change the old model where the landowner had to deal with all the funding, hire the contractor, handle all the paperwork, pay for the installation, wait for reimbursement, then pay taxes on top of that," Swanson says. "This long process was limiting the adoption of these practices."
To succeed, the team knew they had to devise another significant change to tradition to make the process easier for the landowner. "We ended up developing a fiscal agent funding model, patterned after an Iowa Watershed Approach program in Johnson and Benton Counties. It was a federal-funded wetland project where the county administered the funding to the landowners, eliminating project burdens," Swanson says.
"We worked out agreements with the Iowa Department of Agriculture and Land Stewardship, NRCS, and Polk County to fund and manage the project," he says. "Instead of the funding going to individual landowners, all the funds came to Polk County as the fiscal agent and they managed the paperwork and hired and paid one contractor who won all three geography-based bids."
Success with landowner approval
Rather than sending mass mailings to farmers in the area, Puls and Kult sent personalized letters and field maps specifically to landowners. "We had a good success rate, with interest from 60% of the people we called to follow up," Puls says. "In some cases, we had landowners who were prominent farmers connect us with neighbors and even helped sell the success of the practices due to their experience with nitrate reduction."
Kult, who had EOF practice experience with the Iowa Soybean Association (ISA), says landowners allowed them to walk fields to survey outlets to see if a saturated buffer or bioreactor would work. "Initially, our goal was to design and install 25 sites, but with such overwhelming response, we ended up with 51 different practices (41 saturated buffers and 10 bioreactors), working with 12 landowners in Round 1 of this project," he says.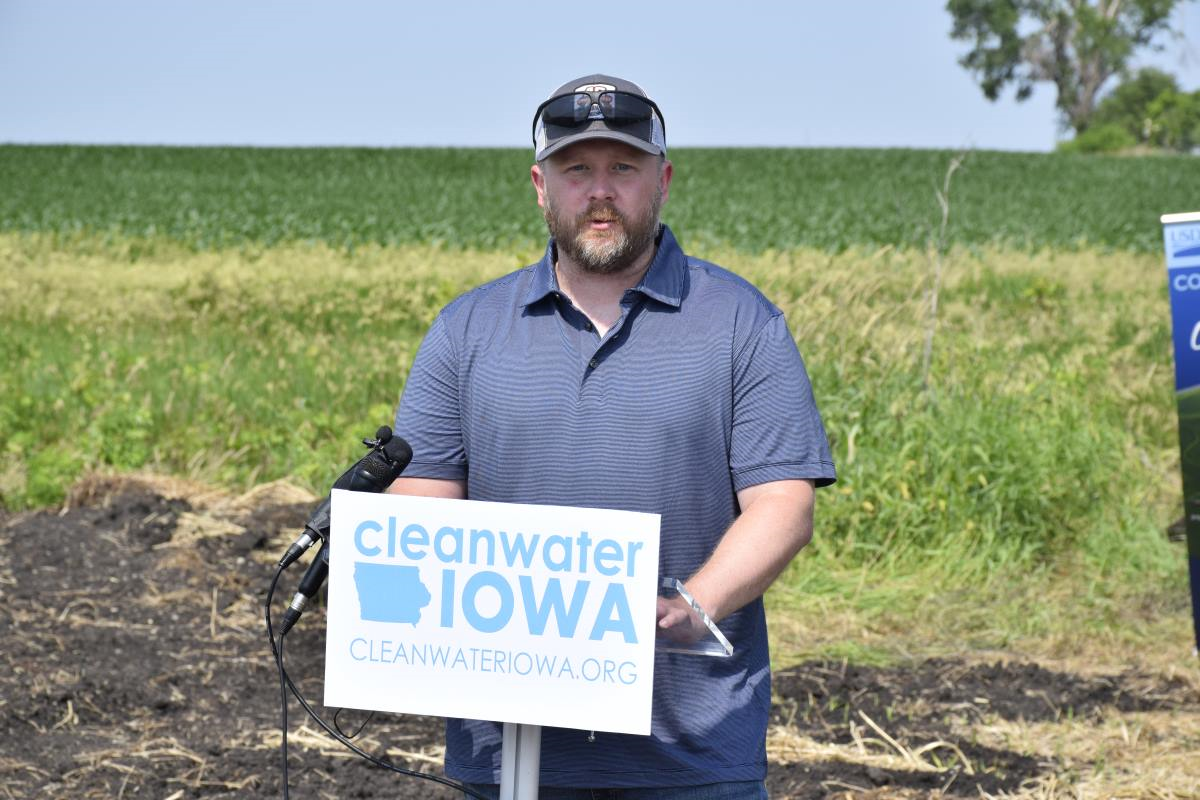 Nitrate removal success with these EOF practices helped sell the landowners. "According to our conservative calculations, these 51 practices will remove over 10,000 pounds of nitrate per year over 1,500 acres," Kult adds.
Puls has enlisted ISA and Drake University to monitor water quality, both pre- and post-installation. In one stretch of Fourmile Creek, 25 practices will be installed along with upstream and downstream real-time nitrate monitoring stations to provide data to prove the success of these practices.
Valuable survey training
NRCS Soil Conservationist Jason Foss provided survey training so Swanson and Puls could deliver the correct data and soil samples for NRCS engineers to design each project. "We realize there's a need to have more people trained on how to survey and design these practices to make this process scalable for other counties to make it work with limited staff," Puls adds.
One final landowner hurdle to overcome was allowing a county-hired contractor to work on private land. "Polk County has a temporary construction and access easement for other projects, so we developed a similar agreement to pay landowners $1,000 per outlet for 30-day temporary construction easement," Swanson says. "Polk County is essentially installing public water quality improvements (infrastructure) with this project."
Contractor efficiencies
Clustering these EOF practices helped entice drainage contractors to bid on the construction package since more jobs in a small geography could deliver more project revenue, while allowing them to pass on some of the savings in the form of lower installation costs.
Efficiencies were achieved across the board with this model. "This whole process — from getting initial surveys done to finishing all the designs — takes more than a year," Swanson shares. "We were thankful the NRCS Ankeny office was able to handle all of our design needs so we could begin installations in May."
The most significant cost savings involved project management costs since the team handled much of this work. "The scope of this project would typically take four to five years to accomplish," Kult says. "We whittled it down by bundling a critical mass of sites that saved surveying and engineering costs."
Round 2 adds Story County
Word of this scalable EOF model has many Iowa counties calling Swanson for advice, along with encouragement from Iowa Secretary of Agriculture Mike Naig, who sees this model being replicated in other priority watersheds across the state.
Work on Round 2 is ongoing this spring, expanding into Story County and the South Skunk watershed. The target is to install 100 practices during 2022. Doug Gass, Iowa State University Extension coordinator, is the project lead.
Discussions are ongoing in Ames and with Story County for matching funding. In addition, a new partnership with Heartland Co-op will provide two conservation agronomists to help with landowner outreach among their customers.
Federal funding from the EPA has been secured for Round 3 to replicate this model in the Beaver Creek watershed. Work will begin this summer when a new coordinator comes on board.
Transforming a traditional conservation process to make it scalable takes the leadership of a committed core team. John Hubbert, Iowa NRCS State Conservationist, says, "Major projects like this one in Polk County don't get accomplished without multiple conservation partners stepping up to do their part."
Kult concludes, "What really made this succeed is we had dedicated funding and the right experts in the room, combined with constant communications. We had never managed this many sites at one time, but we worked together to figure out how to deliver these practices at scale."