When:
July 31, 2018 @ 9:30 am – 2:45 pm
2018-07-31T09:30:00-05:00
2018-07-31T14:45:00-05:00
Where:
Iowa State University FEEL Farm
1928 240th St
Boone
IA 50036

The Right nutrients, in the Right amount, in the Right place, at the Right time
Learn about:
Advances in conservation
Edge-of-field practices to improve water quality
New approaches to variable rate nitrogen
RSVP to Sue Heath, sheath@iasoybeans.com or 515-334-1021. Registration is free; however, spots are limited to 150 people. Lunch is provided. (6 CEU Credits Available)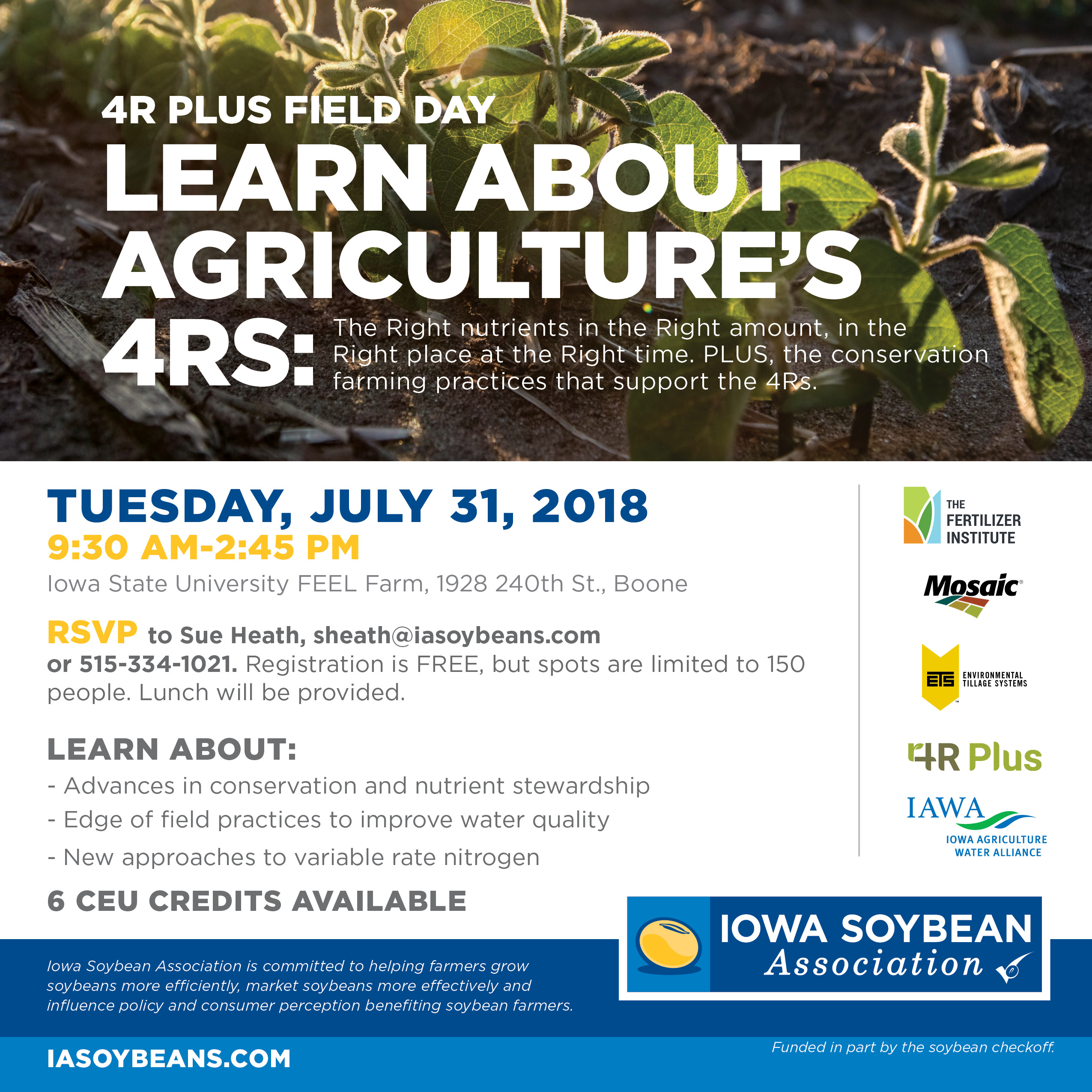 About 4R Plus
Launched by a grant from CF Industries, 4R Plus is being guided by a coalition of agricultural and conservation organizations as a part of the Iowa 4R Plus program to support farmers' efforts to implement precise nutrient management and conservation practices.
4R Plus involves using precise 4R nutrient management and conservation practices to provide nutrients when the crop needs them and to enhance soil health and improve water quality. The goal is to achieve a more productive crop now and in the future.
By implementing 4R nutrient stewardship practices, you optimize the nutrients you apply to maximize plant uptake and minimize field losses. Using the 4Rs allows you to keep the nutrients in the root zone and available when the crop needs them the most during the growing season.
Advantages of Using 4R Nutrient Stewardship Practices
Crop fertilization program consisting of right fertilizer source, applied at the right rate and right time and in the right place.
An efficient, effective, science-based use of plant nutrients to achieve agronomic, economic, social and environmental benefits.
Optimized yield with reduced nutrient losses from the field by matching crop requirements and nutrient supply.
Proper nutrient management promotes crop growth and improves soil health.
Enhanced soil organic matter levels by producing more root and crop residue biomass.
Maximize the ability of the soil to provide all essential nutrients in adequate amounts relative to plant need.
Efficient use of water through the combined interaction of soil, nutrients and water.
Efficient plant nutrient uptake and reduced loss to the environment by keeping nutrients in the root zone.
Maximize fertilizer ROI by minimizing nutrient losses and increasing productivity.
Framework encourages discussion between farmers and crop advisers about improving fertilizer management practices.