Better Managing the Impact of Water through Collaboration
An inch of rain falling on an acre of impermeable asphalt parking lot becomes roughly 27,000 gallons of runoff, according the US Geological Survey. That's a challenge that Wayne Petersen and a small team of urban conservationists at the Iowa Department of Agriculture and Land Stewardship's Urban Conservation program have been working with more than 50 Iowa towns and cities since 2008 - to better manage the impact of water that falls in urban areas.
The impact of water depends on multiple factors; where it lands, how much, how fast, temperature, etc. But conservation practices can help manage the impact on both urban and rural landscapes. Though the water quality benefits of managing urban landscapes are modest when considering the whole Iowa landscape, the Iowa Nutrient Reduction Strategy (INRS) considers urban areas an important piece of the water quality puzzle.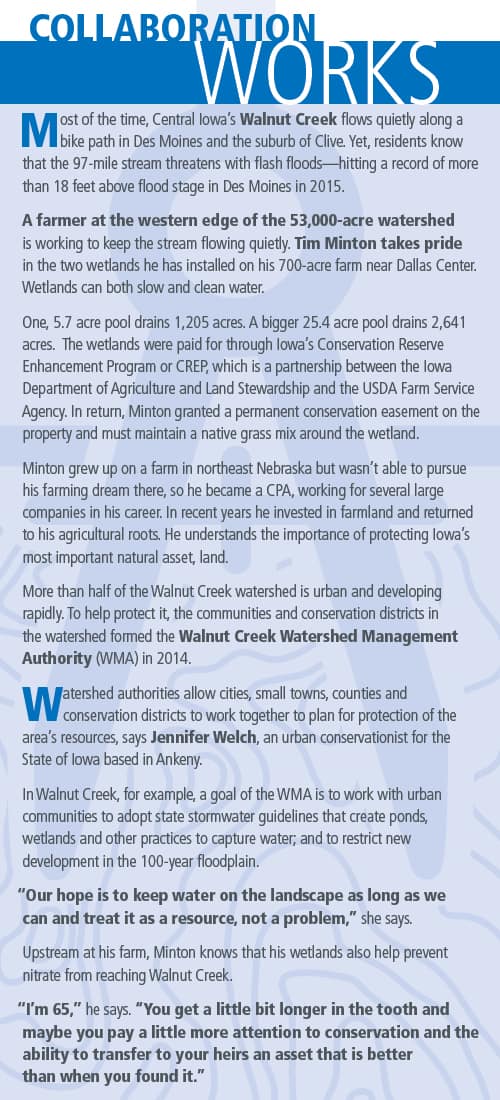 Runoff from urban roofs, streets and parking lots is a far more destructive force than water runoff from rural areas. During catastrophic storms, urban waterways in Iowa become as dangerous as dry washes and slot canyons in the West. A June storm in 2014, a 17-year-old boy drowned in Cedar Rapids when a surge of water swept him into a storm sewer. He had been playing Frisbee with friends. A second boy who was carried away by the flooding survived.
The speed of urban water runoff is why Iowa towns and cities are using conservation practices to slow it. Some of those same practices slow water coming from upper, rural landscapes. Ninety percent of rain events are an inch or less, according to Petersen, and more manageable than such disasters. So Iowa's Agriculture Department offers technical help and small grants to install rain gardens, vegetated drainage ways called bioswales, and other practices that divert and slow water. New housing developments incorporate ponds and wetlands. Some towns, including Arnolds Park and Charles City, have replaced solid pavement with permeable paving blocks that allow water to infiltrate into the ground. Permeable pavers can reduce runoff from that acre of asphalt by more than 90 percent, says Petersen.
From an urban standpoint, the biggest share of nutrients entering Iowa waterways comes from sewage treatment plants—amounting to only 20 percent of the total phosphorus (P) and 8 percent of the total nitrate (N) in the state, according to the INRS. The rest of the P and N reaching rivers and streams comes from nonpoint sources, mostly agriculture, but also from the lawns, parking lots and streets that funnel urban nonpoint pollution downstream.
Sewage treatment plants are already upgrading to meet Nutrient Reduction Strategy goals, and they're playing a key role in financing Urban Conservation projects aimed at nonpoint storm water, too. Waste water plants typically borrow from the Clean Water State Revolving Fund (SRF). A city borrowing for the wastewater improvement can also apply to the Iowa Department of Natural Resources for a "sponsored project" that and can be used for urban or rural conservation.
Iowa is the first state in the nation to incorporate this innovation on leveraging SRF funding for point source (mostly urban) projects to address nonpoint (mostly rural) runoff.
If the project is approved, the city pays back the loan at a lower interest rate and uses the savings to pay for conservation projects, Petersen says. For example, if it borrows $1 million at 1.75% interest for upgrading sewage treatment, it could borrow $1.1 million at .75% and use the interest savings to pay for $100,000 in conservation projects. Petersen and other urban conservationists for the Agriculture Department provide the technical assistance.
Because urban ratepayers don't pay any more than they would have for the wastewater improvement project alone, at least two projects come for the price of one.
Sponsored projects pay for nearly all of the implementation of city conservation practices—about $10- to $12-million a year, Petersen says. The state's Water Quality Initiative, a program that also pays for farmer practices such as cover crops, adds another $1 million a year to the urban program.
Here's how it can work. In Lake View, Iowa, a farm field planted in cover crops near a Water Quality Initiative urban wetland provides additional nutrient uptake and water infiltration benefits before the water enters Black Hawk Lake. Next year, a Sponsored Project will help treat runoff from local businesses.
Now that Iowa has gained experience with sponsored projects, there's interest in looking at the total needs of a watershed to determine the area of greatest need – urban and/or rural; and investing in that area.