Cover Crops, Conservation Drainage and an Overall Strategy for Implementing Conservation Infrastructure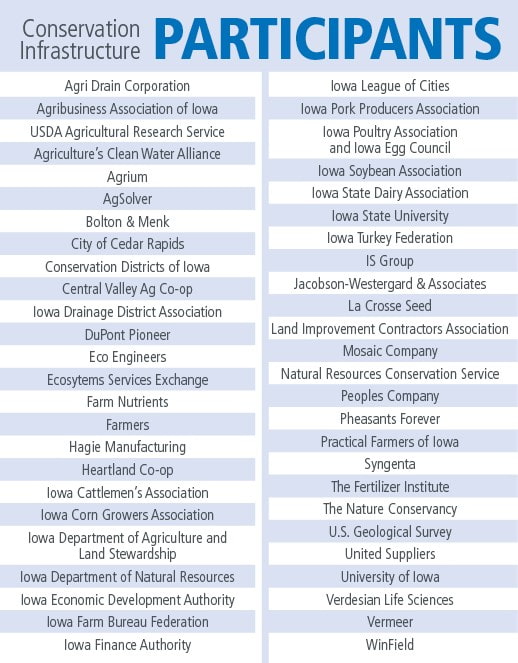 On a cold morning recently, more than 50 members of the Iowa Agriculture Water Alliance (IAWA) Business Council, Advisory Council and guests gathered at the FFA Enrichment Center in Ankeny, Iowa. They came to find ways to advance the water quality improvement goals of Iowa's Nutrient Reduction Strategy (Iowa's Strategy). They represented farmers and cities, Iowa agribusinesses, conservation organizations and federal and state agencies.
For some, it was the first time to meet since IAWA and the Iowa Department of Agriculture and Land Stewardship announced the conservation infrastructure initiative at the Farm Progress Show in August. Conservation infrastructure encompasses all of the tools, equipment, incentives and expertise needed to implement Iowa's Strategy for water quality.
The group came together to work on three important areas – cover crops, conservation drainage and an overall strategy for implementing conservation infrastructure. Even when they split into the three breakout sessions, common themes emerged—the barriers of low commodity prices and need for consistent public funding; measurement and documentation of benefits; and the need for more training and technical expertise.
"We certainly didn't have any problems coming up with the challenges. That was pretty easy to identify. But the discussion about solutions was equally, if not more encouraging," says Ray Gaesser, co-chair of the effort with Iowa Secretary of Ag, Bill Northey. Gaesser is the past president of the American Soybean Association.
While some of the solutions may seem obvious, the tougher challenge is gaining coordination and agreement among the necessary, multiple players for faster implementation. For example, sometimes satisfying requirements for cost-share can take several years. So the group thought that the timeline could be sped up by using standardized processes and designs for certain practices.
"Those are the type of ideas that we're looking for from this group," says Northey. "Iowans are creative and innovative and when we collaborate, anything is possible."
In particular, developing standard approaches may work best for conservation drainage practices – a relatively new area that the Iowa Soybean Association's Environmental Programs and Services Senior Environmental Scientist Chris Hay and others are developing.
Conservation drainage includes a host of permanent practices that are effective at reducing nitrates leaving a field, but can also be expensive with no immediate benefits to a farm. Among the practices are edge-of-field installations like bioreactors and saturated buffers, wetlands, drainage water management and more.
The group strongly supports organizing all of these practices in a watershed through a watershed planning process. This way, local farmers and communities can work with the best available science to decide where each practice will have the biggest effect, Hay says. "They can figure out how to implement it best within their watershed."
In contrast to edge-of-field practices, cover crops that can capture soil nitrates during the cool seasons of the year are already popular in Iowa, with farmers planting an estimated 500,000 acres in Iowa by 2016. But reaching the necessary 12 to 17 million acres presents interesting challenges. Where will the 17,000 semis needed to transport cover crop seed each year come from? And currently, there's not enough cover crop seed in the entire nation to meet Iowa's need. Farmers who have been testing cover crops for several years report higher organic matter in the soil, better water infiltration and other benefits but the economic benefits aren't always easy to measure.
The group will continue to deliberate on potential solutions over the next 18 months, set priorities and engage the necessary players. Overall, the effort is intended to build upon existing public sector cost share programs by attracting more private sector investment and harness economic drivers to improve water quality.