IAWA Executive Director Sean McMahon reflects on a decade of progress and a decade of opportunity as we enter the next 10 years of the Iowa Nutrient Reduction Strategy. This web post is a shortened version of Sean's 'Iowa Nutrient Reduction Strategy – the Defining Decade' speech to the Iowa Smart Agriculture Forum. You can watch the speech delivered at the World Food Prize Hall of Laureates here.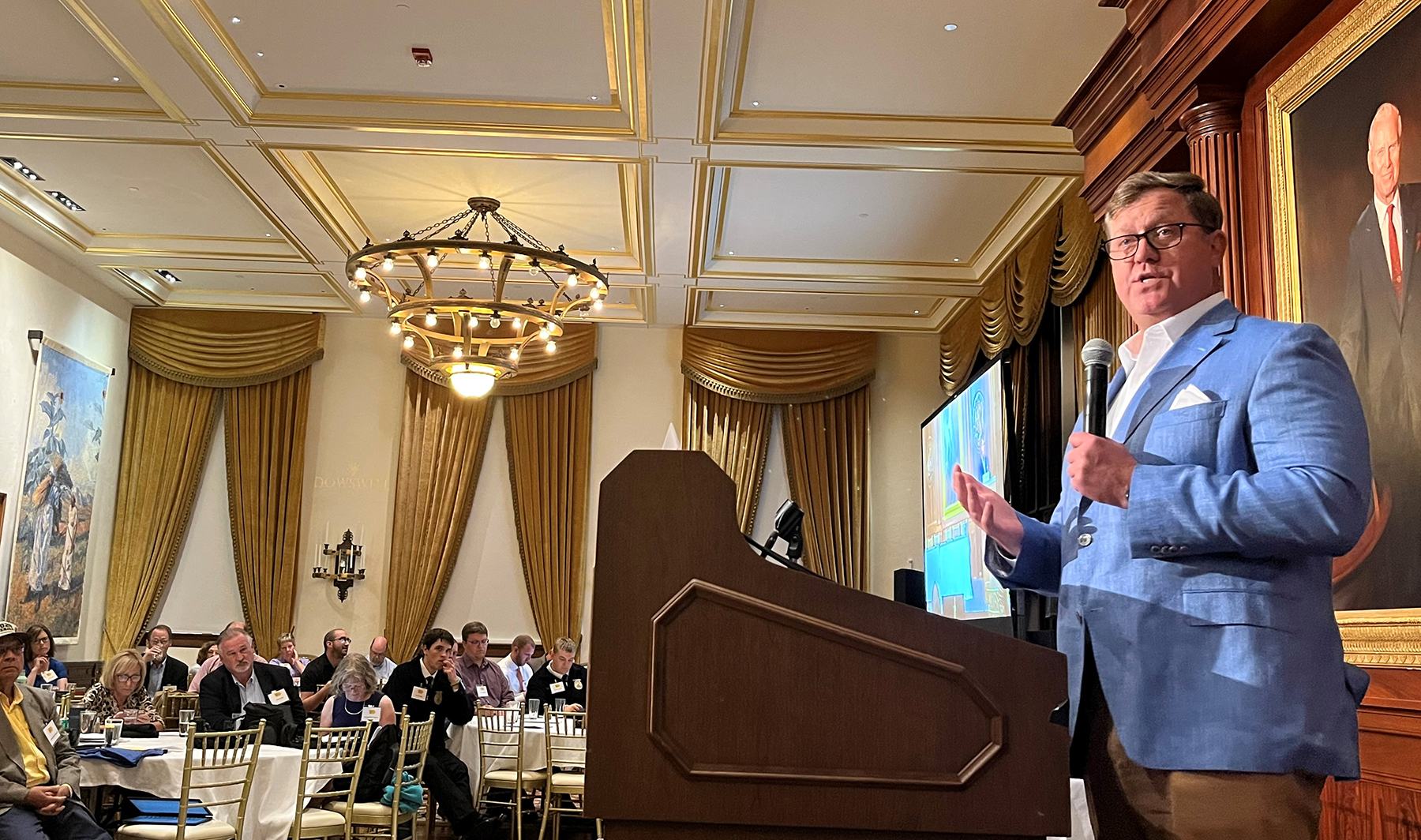 ANKENY, Iowa (IAWA) – For many people, July is a time to relax a bit. We can enjoy the warm weather on the patio, float down our favorite waterway, or take a summer vacation while the kids are out of school.
But July for the Iowa Agriculture Water Alliance – especially this July – is a time for renewed focus and hard work.
Many of you know that we spent the first six months of this year reflecting on the progress of the Iowa Nutrient Reduction Strategy, which turned 10 on May 29. As we enter the second half of this year – and the second decade of the strategy – we must stay focused on the challenges ahead.
Why? For the betterment of our communities, our environments, and our family farms. Time will fly, and we know it's important to you, too, to be able to tell your friends, family, and colleagues about the accomplishments you've made in improving water quality.
Fortunately, we're off to a strong start with a lot of momentum.
For example, I have no doubt we will reach the Iowa NRS goal of 29% reduction in phosphorus loss in the next decade. We nearly achieved it in the first decade! Iowa farmers have been heeding the calls to reduce soil erosion since the Dust Bowl, and Iowa leads the nation in terraces, buffers, and grass waterways. As a result, soil erosion in Iowa has decreased by roughly one-third since 1980. NREC data shows that no-till is growing by more than 600,000 acres annually, so the future is bright. However, that doesn't mean our work reducing soil erosion will be done. Phosphorus is the primary resource concern for many of Iowa's freshwater lakes, which may have reduction targets even higher than the NRS goals.  Phosphorus loading in Iowa streams has been declining by 2% per year in recent years, and we must accelerate efforts to restore Iowa's lakes.
We still have our work cut out for us when it comes to reducing nitrogen loss. We have a long way to go. But we know what we need to do to achieve the ambitious NRS goals. In fact, key nitrogen loss reducing practices like bioreactors, saturated buffers, and prairie strips were invented right here in Iowa! There are several innovations that give us reason to be optimistic that we will make more progress at reducing nitrogen loss in the next decade, and one of them is the "Batch and Build" model. This concept is key to reducing nitrogen loss from subsurface agricultural drainage by scaling up proven, highly effective edge-of-field conservation drainage practices. The Batch and Build concept originated with Charlie Schafer of Agri Drain, through the Conservation Infrastructure initiative, which was co-led by the Iowa Department of Agriculture and Land Stewardship and IAWA. Rather than adding these edge-of-field practices one landowner at a time, he realized we could batch a couple dozen or more of these practices simultaneously with one contractor for greater efficiency and cost effectiveness.
Charlie pitched this idea to Polk County, and they have been leading the Batch and Build charge ever since. Their leadership has led to a 650% year-over-year average increase in new edge-of-field practices in recent years! For example, Polk County has installed more than 100 of these practices in the past 18 months! That is a great improvement from the days of adding just one bioreactor or saturated buffer per year. What will Batch and Build's impact look like in 10 years? We hope it leads to the addition of thousands of new edge-of-field practices statewide.
That acceleration has already begun. Polk County is supporting Batch and Build efforts in Dallas, Story, and Boone counties. At the same time, IDALS, Heartland Co-op, the City of Cedar Rapids and other partners are expanding the concept to the Cedar River watershed. IAWA will be partnering with the Great Outdoors Foundation and the ICON project to expand the model throughout the North Racoon and Des Moines watersheds.
Another reason to be optimistic about continued progress in the next decade is the new conservation agronomist concept, which is helping us to reach new farmers. Five years ago, IAWA co-convened focus groups of certified crop advisors and ag retail executives, along with the Agribusiness Association of Iowa and Agriculture's Clean Water Alliance. Our focus groups indicated that they would benefit from embedding conservation expertise directly in their operations. That led to the idea of creating conservation agronomists, who are trained in agronomy and conservation.  The Iowa Soybean Association has pioneered this approach to great success in Iowa. Five years ago, there were zero conservation agronomists. Today, there are eight in Iowa participating in the ISA Conservation Agronomist Network. By this time next year there will be at least 12! IAWA has raised over $1.2M for conservation agronomists in the last couple years, and we're excited to partner with ISA, ACWA, and others to expand on this innovation.
Fertilizer management is another piece of the puzzle. In Iowa, most commercial nitrogen application on corn acres takes place in the spring, limiting environmental losses. Of the acres where fall nitrogen is still applied in Iowa, an estimated 86% is put on with a nitrogen inhibitor, reducing nitrous oxide emissions and nitrate leaching. Corn growers have improved their fertilizer use efficiency in N/P/K by over 100% since 1980.
Looking ahead, ISU's Iowa Nitrogen (N) Initiative is a top priority that IAWA supports. Led by Dr. Mike Castellano, the N Initiative will modernize and optimize nitrogen recommendations for farmers to maximize productivity while reducing the risk of nutrient losses to the environment. The N Initiative will rely on supercomputers, artificial intelligence, forecasting and hindcasting to produce globally leading N recommendations. Talk about technological advances!
Record levels of federal investment for conservation is another reason to be optimistic as we begin the next decade of implementing the Iowa NRS. The Inflation Reduction Act (IRA) will provide $19B for Climate Smart Agriculture, starting this year. USDA is providing nearly $3B in additional funding starting this year for the Partnership for Climate Smart Commodities (PCSC). Private investments for improving water quality will continue to climb through increased farmer cost share and private sector investments in programs like the PCSC and the Regional Conservation Partnership Program (RCPP) as the federal government provides more public funding for conservation.
The Horizon II Partnership is a great example of a Climate Smart Commodities project. It will expand methane digesters, prairie strips, and cover crops. Prairie strips are my favorite conservation practice because they provide disproportionate benefits for water quality and habitat. The deep-rooted, stiff, rugged prairie grasses reduce runoff and soil erosion by about 95% and 90%, respectively, while also creating wildlife habitat for birds, monarch butterflies, beneficial insects, and pollinators. Prairie strips also improve soil health, sequester carbon, and reduce flood risk for downstream communities. Iowa trails only Illinois in prairie strips, but Iowa will soon be #1 in that practice as well in the coming years, thanks to projects like Horizon II.
The Regional Conservation Partnership Program (RCPP) is another great funding opportunity helping farmers succeed. Many of you receiving this email are partners in an RCPP project. The RCPP was created by the 2014 Farm Bill to target priority watersheds while attracting substantial additional investment from the private sector to usher in a new era of public-private partnerships. Iowa is #2 in the total number of RCPPs in the nation, second only to California. We're #1 in the nation in total funding for RCPPs. IAWA and our partners have already improved conservation on more than 4 million acres through the $100M Midwest Agriculture Water Quality Partnership, the largest RCPP project in the U.S.
Market payments for ecosystem services will play an increasingly important role in the next decade as we make progress toward transitioning to a Net Zero Emissions economy. There are over twenty carbon platforms in the U.S. today. Two of them, the Soil and Water Outcomes Fund (SWOF) and the Ecosystem Services Markets Consortium, pay farmers to improve water quality in addition to sequestering carbon and reducing greenhouse gas emissions. SWOF was created right here in Iowa by the Iowa Soybean Association.
Promising new technological advances will also play a role. Some examples include digital agriculture, variable rate technology, precision ag, subfield scale profitability analysis, remote sensing, and hyperspectral soil sensing. These advances will help to improve resource use efficiency, farmer profitability, and environmental outcomes.
We had amazing, visionary leadership a decade ago when Secretary Northey, Dean Wintersteen, and Director Gipp created the NRS. And we have steadfast, determined leadership now in Secretary Naig, Dean Robison, and Director Lyon, all of whom are working tirelessly to implement the NRS alongside more than 350 additional partners.
Iowa is now leading the nation in numerous conservation practices and overall efforts to improve water quality, but we recognize that we have much more to do. We won't stop until we have at least 12 million acres of cover crops, 120,000 bioreactors and saturated buffers, 7,000 new wetlands and the goals of the Iowa NRS are fully implemented! 
We want to recognize the tremendous progress that we've made in the defining decade of NRS implementation. A decade defined by collaboration, partnerships, innovation, investment, momentum, strategy, and progress on improving water quality.  
We're committed to making even more progress in the next decade of implementing the Iowa NRS. Are you? What will you be able to say in 2033?
Join us! The best is yet to come!
Sincerely,
Sean McMahon
IAWA Executive Director
Published July 11, 2023