By Adam Sodders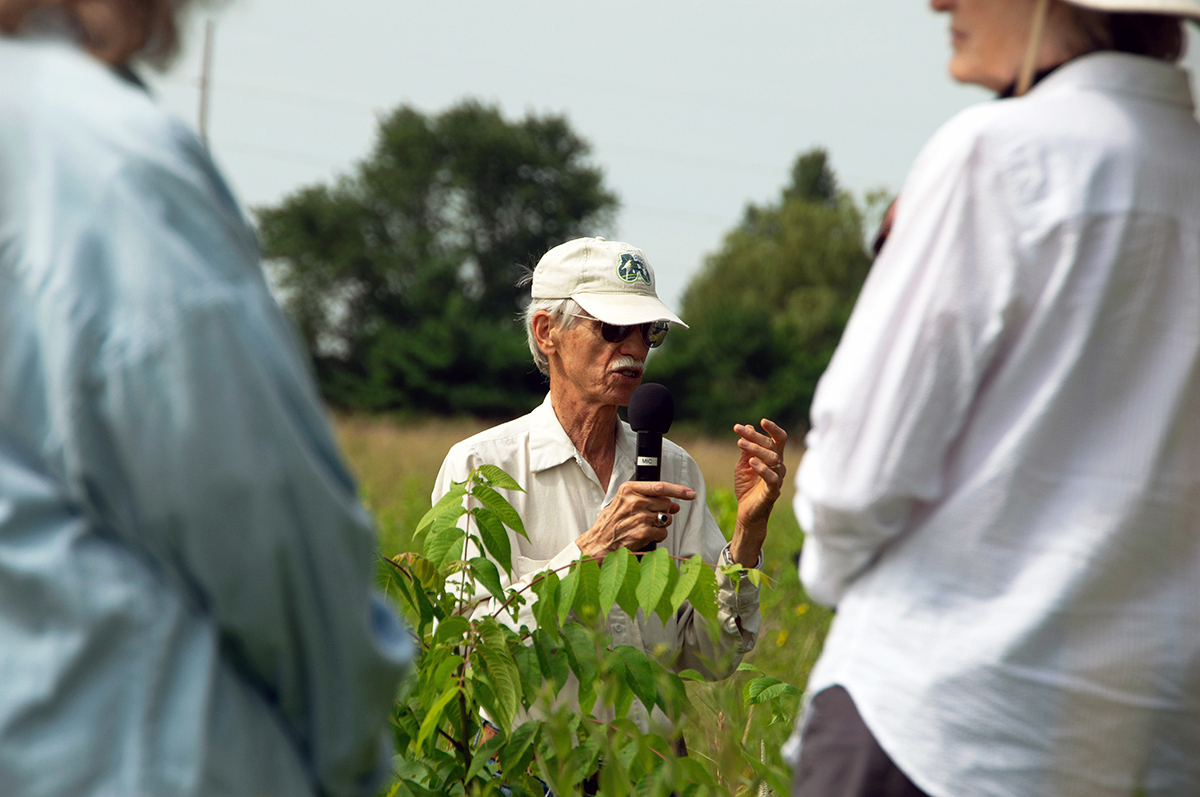 ST. ANTHONY, Iowa (IAWA) – In Marshall County, a 105-acre patch of restored prairie gives a glimpse into Iowa's past and serves as an example of the impact that long-term conservation work can have.
That same patch is where Carl Kurtz has called home all of his 77 years, more than half of which he has dedicated to re-building the land's native prairie habitat.
"I think what we've learned the most is, the longer you do it, the less you know," Kurtz said of prairie restoration at a Practical Farmers of Iowa (PFI) Pollinators of the Iowa Prairie field day this July. "It's been a wonderful learning process."
An audience of dozens of prairie enthusiasts heard Kurtz's prairie-building story, which started in 1975 when he asked his friend, the county engineer, if he could plant prairie seeds in a roadside ditch. Over the next decade, Kurtz learned more about prairies from another friend, an Iowa State University botanist and researcher.
In 1988, after some experimentation, Kurtz and his wife, Linda, decided to plant a locally sourced prairie mix around a small pond on the north side of their property, while continuing to farm traditional crops on the rest of their land.
That initial 50 acres of prairie became a reliable source of seeds to sell to individuals and organizations interested in planting prairie. After the major flooding of 1993, Kurtz recalled selling thousands of pounds of seeds to the U.S. Fish & Wildlife Service as part of their flood mitigation efforts.
Prairie partnerships
Thanks to Kurtz's care and dedication, his prairie has more than doubled in size since his initial planting – not to mention the 80 acres he sold to the non-profit Iowa Natural Heritage Foundation (INHF) in 2014.
At PFI's field day, the foundation's Central Iowa Land Stewardship Director Ryan Schmidt said that 80 acres, called Spring Hill, is part of the 10,000 acres his organization owns and conserves. Schmidt said that land is a key part of INHF's mission to restore Iowa's land, water, and wildlife.
In line with that mission, much of the INHF's land ends up being transferred to other conservation organizations, including the Iowa Department of Natural Resources, among others. Kurtz said groups like INHF and Practical Farmers of Iowa have been excellent to work with on his prairie management journey.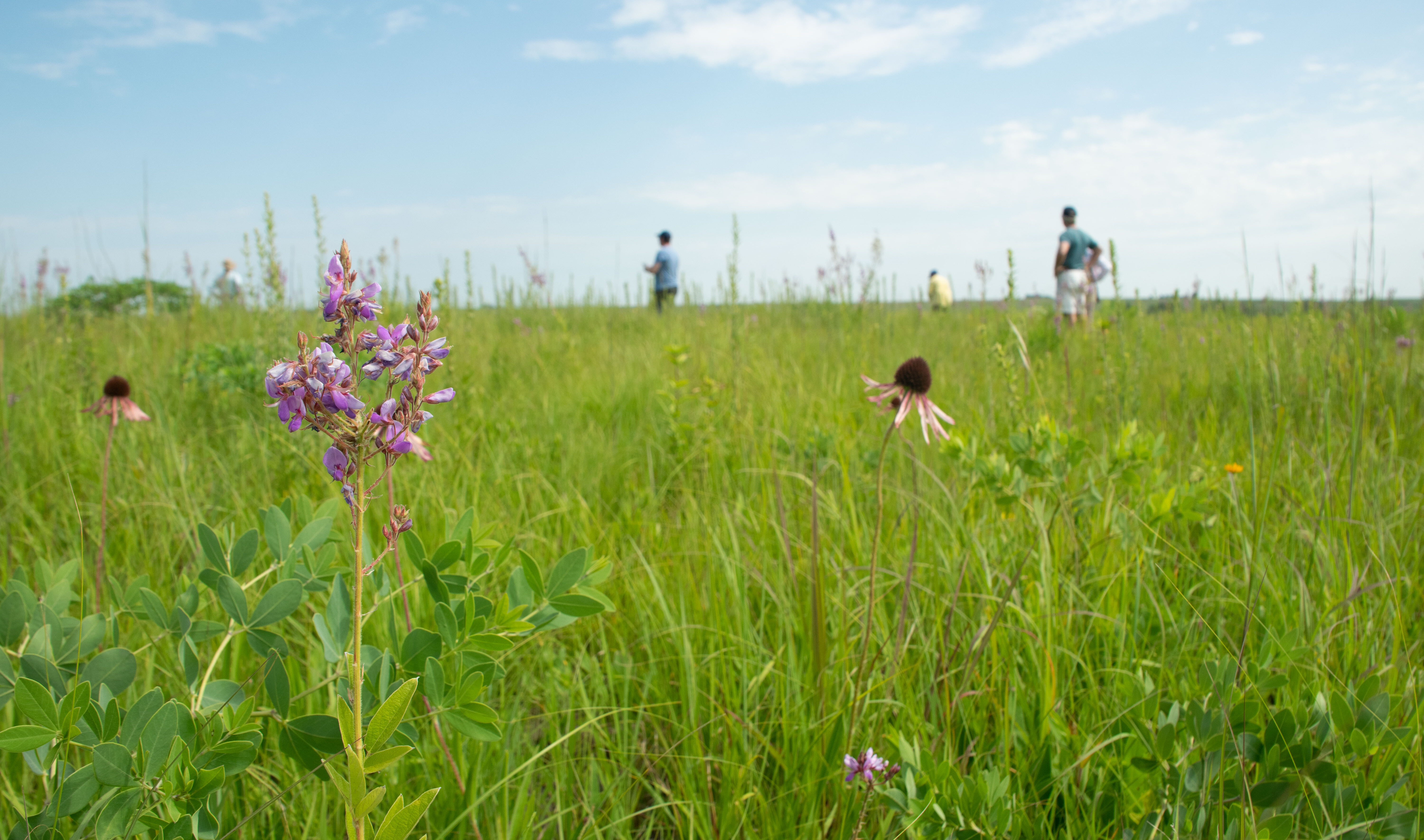 Tips from a prairie pro
Kurtz's years of experience as a prairie steward have left him with much wisdom, and he was happy to share some key tips for building a successful prairie.
One of his top pieces of advice? Burn, and burn often. He has done controlled burns on his prairie nearly every year for the past 20 years.
Even for those who won't harvest their prairie seeds, Kurtz still advised burning at least every other year or every third year. He said such controlled burns replenish the soil, while also killing off non-native, burn-avoidant plant species.
Another Kurtz tip – buy prairie mix that is native to the local area. Some mixes are well-suited to given soils, weather conditions, and ecosystems. Kurtz said his prairie was born from seeds of a remnant prairie just 20 miles to his west.
While his prairie still requires watchful care, Kurtz said the native grassland is no "English garden." Now that the plants are established and maintained with annual burns, he said undesirable and invasive species aren't a big concern.
Another joy of an established prairie is the variety and beauty it displays.
"The wonderful thing about prairies, if you have a lot of diversity, is you'll have plants that come up in early April, then you'll have a big flush of yellow in May," Kurtz said. "Then you'll have plants that bloom all summer and all fall, into October – it's kind of like a flower garden, but it lasts for five or six months."
The Iowa Agriculture Water Alliance is proud to have sponsored the PFI Pollinators of the Iowa Prairie field day at Carl Kurtz's farm, along with the INHF and Prudenterra.
Check out upcoming field days on PFI's 2023 events web page.
Published July 24, 2023