By Kurt Lawton
The goal is to connect Iowa farmers and service providers to boost cover crop success while improving soil health and water quality.
Neighbors helping neighbors succeed with cover crops is the motto driving Stanley, Iowa, farmer Dan Bahe as he built Bahe Cover Crops into a local side business. "Once we learned how to sustain success with cover crops on our farm to improve soil health, water infiltration. and higher yields, we've had neighbors asking us about cover crops," Bahe says. "So, we decided to start a full-service cover crop business focused on helping area farmers."
Bahe is one of a growing group of local businesses ready to expand cover crop success. Given the harvest time crunch and labor challenges, more farmers seek expertise to achieve cover crop soil benefits and reduce nitrate loss to meet the goals of the Iowa Nutrient Reduction Strategy (NRS).
To help connect farmers with these businesses, Practical Farmers of Iowa (PFI) has launched a new "Find Cover Crops" mobile phone app and website.
Currently, the app and website feature 50 businesses across Iowa that offer services that include aerial application, custom drilling, custom spraying, high-clearance seeding, seed suppliers, seed cleaning, dry fertilizer spreading, roller crimping, and more.
Grow cover crop acres through simplicity
"It's been a vision at PFI to take and grow our existing Cover Crop Business Directory by turning it into an app and website that more easily connects farmers with cover crop businesses," says Sarah Carlson, Strategic Initiatives Director for PFI. "We want to make communications seamless and provide helpful resources in a user-friendly tool across all three platforms (iPhone, Android, and a website). We believe this tool will provide ongoing utility for users as we continue to update and improve the app. We're focused on Iowa initially, and then will expand it across the Midwest."
To begin a search, go to either the iOS App Store for iPhone or the Google Play Store for Android and search for 'Find Cover Crop' mobile app from PFI to download. The first function is 'Find Cover Crops', then check the box by the services you want, how many acres you need, then type in your location or click the Use Current Location button. The next screen shows a list of all the businesses and their locations on a map. Click on a company to see their location, contact information, and a list of services offered.
"The second function, 'Get Advice', walks you through a brief set of questions (fall or spring application; winter kill, or spring terminate) which will result in cover crop recommendations," says Michael Borucke, PFI Data Analyst. Some recommendations are accompanied by educational PFI videos as well, such as 'Termination Dates for Cereal Rye in Soybeans' or 'Multiple Benefits of Rye: Calving, Grazing Harvesting' virtual field days.
The third primary function is 'Find My Field.' Once you create an account and log in, search for your field, grab a screenshot, and email it to the business, giving them a more precise location of the field(s) to be seeded. Borucke suggests using the website instead of the app since a mouse cursor is more accurate than a finger on a phone screen for the field location.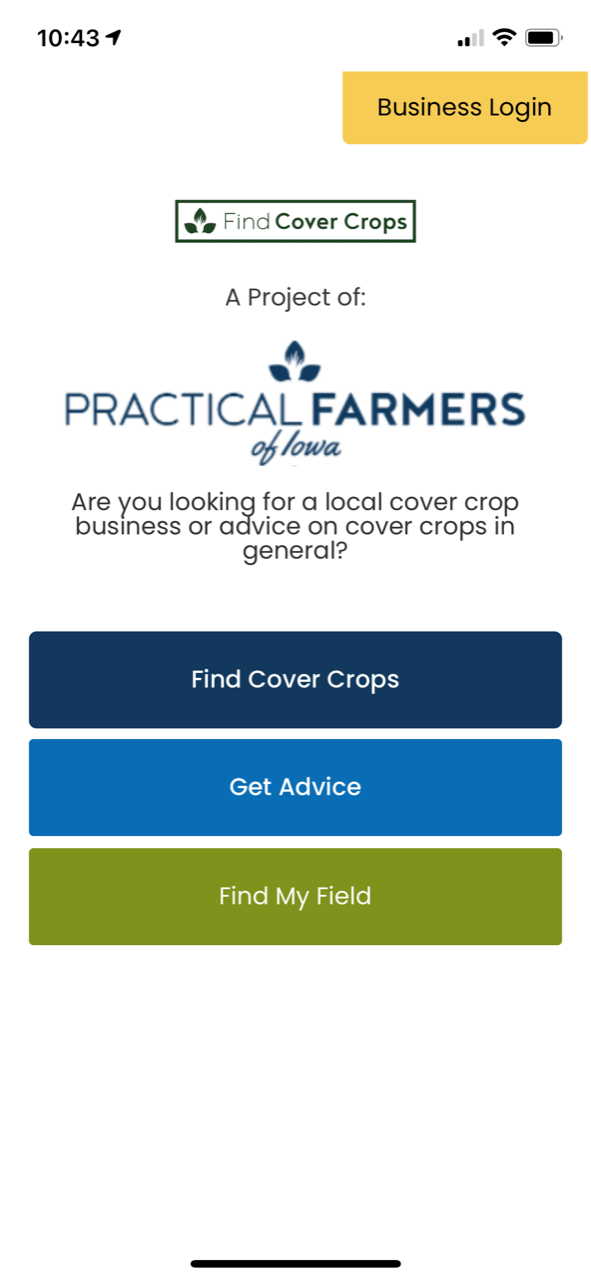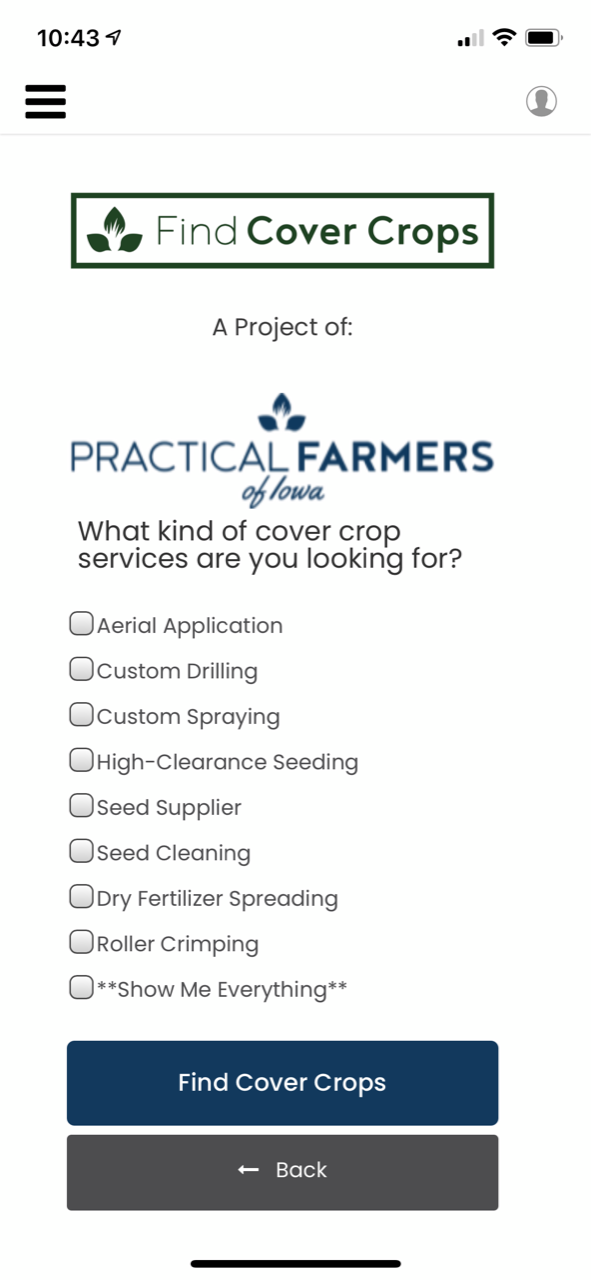 Find Cover Crops website available too
The website contains a similar interface. Click the 'Get Started' button to answer questions or click on 'Find Cover Crops' to initiate your search for area business providers. The Cover Crop Business Directory in the app is derived from the current PFI directory. There is also a new business sign-up right on the app. Business owners specify the radius in miles for their service and the minimum acreage they will seed. This data will filter the correct businesses in the area that can service a farmer's needs. For cover crop business owners, click on 'Business Login' on the upper right to sign up or change a listing.
Bahe has tested the mobile app and the website and says both are very intuitive for producers and cover crop business owners. "I really like the map feature where farmers can send me a field screenshot that they want to seed. It's much more precise and efficient compared to a hand-drawn map or a description based on intersecting streets, especially when we're trying to seed around 3,000 acres in the fall."
Carlson says they're actively accepting feedback on the app to continually improve it as they create version 2.0. Contact Sarah at sarah@practicalfarmers.org or call 515-232-5661.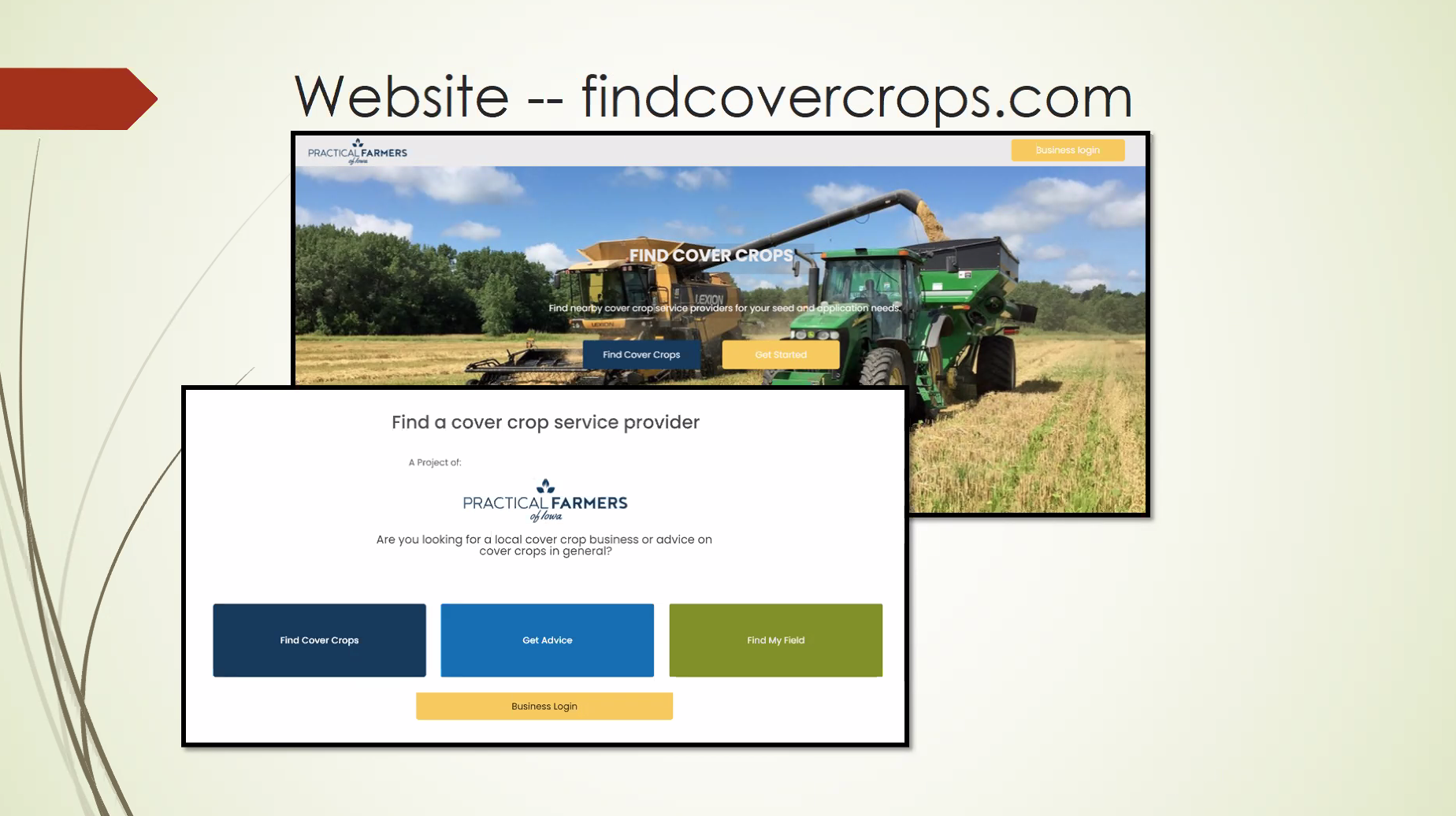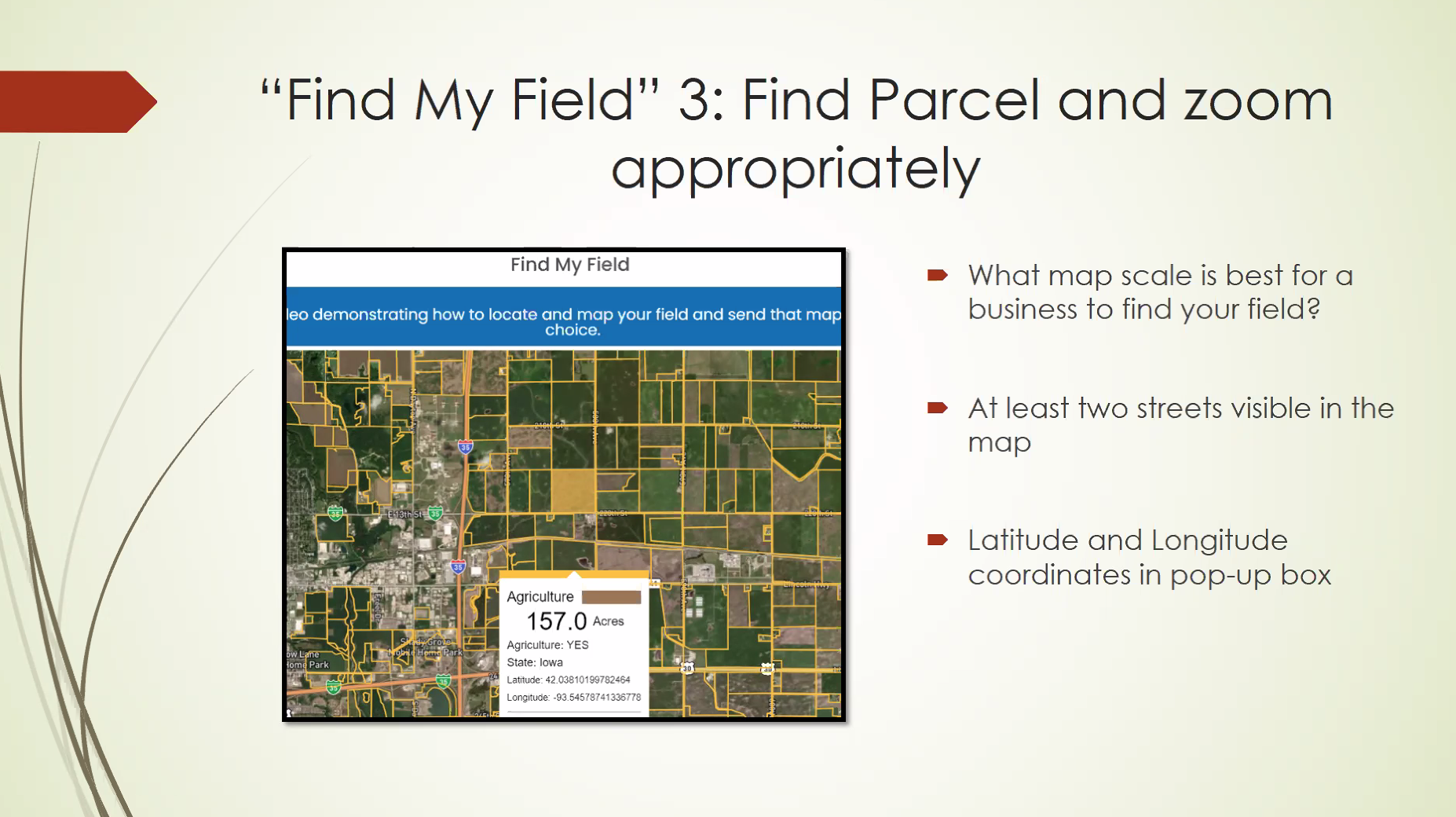 The importance of cover crops
"Cover crops are an essential practice for implementing the Iowa NRS," notes Sean McMahon, Executive Director of the Iowa Agriculture Water Alliance. "We've lost about ten million acres of small grains, pasture, and prairie in Iowa since 1950. This massive land use change has created water quality challenges since we now have fewer living roots in the soil when Iowa receives most of our precipitation in the spring, before row crops are established, and in the fall, largely after harvest."
Planting cover crops, especially winter-hardy varieties, helps hold soil and nutrients in place when they are most vulnerable to nitrate loss. "While we've exponentially expanded cover crops to 1-2 million acres over the last decade, we need at least 12 million acres of cover crops to successfully implement the Iowa NRS. The 'Find Cover Crops' app is a promising new tool to help expand adoption of this critical practice," McMahon says.