ANKENY, IOWA – John Wills, Iowa Great Lakes Watershed Coordinator, is honored with a Circle of Excellence award from the Iowa Agriculture Water Alliance (IAWA) as part of the third annual Iowa Watershed Awards program.
Wills is honored with five other watershed coordinators who are also receiving IAWA Iowa Watershed Awards for their multitude of contributions and steadfast dedication to improving water quality across the state.
"With Earth Day on April 22nd, it's a great time to recognize these watershed coordinators – the unsung local heroes who work hard every day to implement conservation practices to improve water quality," says Sean McMahon, IAWA Executive Director. "John is helping farmers, landowners, and urban partners meet local community goals for Iowa's Great Lakes region while also simultaneously advancing the objectives of the statewide Iowa Nutrient Reduction Strategy."
A Unique Urban-Rural Watershed with Strong Local Support
Most Iowans are familiar with the Iowa Great Lakes, a popular destination surrounded by productive farmland. The lakes are the state's largest natural water bodies and one of them, West Lake Okoboji, is its deepest.
Growing up 30 miles away in Sibley, Iowa, Wills was familiar with the Lakes' water quality challenges.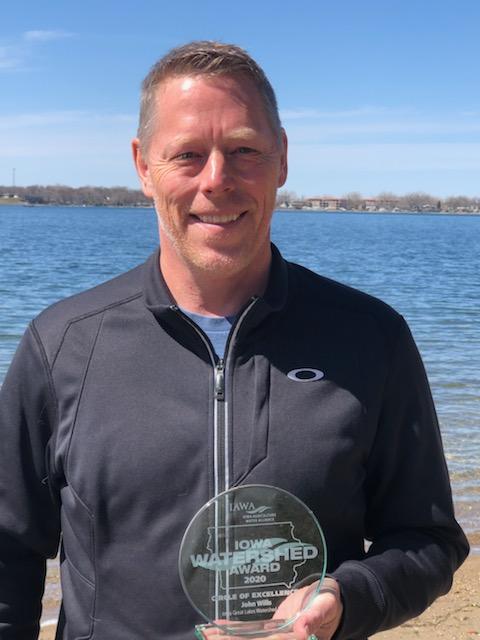 "It was just green, kind of that pea soup green, during the summer," he recalls. "It was something I thought could definitely be improved and changed."
He began working toward that goal in 1993, as a Clean Water Alliance Coordinator, a job that still takes a third of his time. Another third is devoted to his work as the Great Lakes Watershed Coordinator. The rest of his time he serves as Speaker Pro Tempore of the Iowa House of Representatives.
The Iowa Great Lakes watershed comprises 96,000 acres, with a third in Minnesota. The watershed outlet is near Milford, Iowa, where it enters the Little Sioux watershed.
Unlike many Iowa watersheds, nitrogen is at low levels. Any nitrogen reaching the lakes is typically removed by microbes in the lakes, Wills says.
"Basically, the nutrient of concern is phosphorus," he says. The project also aims to reduce sediment. "We look at both urban practices and agricultural practices," Wills says.
Agricultural practices include grassed waterways, sediment control basins, filter strips, and cover crops.
"We concentrate on building small wetlands within the watershed at every possible point, especially if they are small and natural," he says. "We know that these wetlands remove phosphorus."
Urban practices include soil quality restoration, shoreline restoration (both urban and rural), and using permeable pavers. Siting of the pavers is crucial because if there are oak trees nearby, their acorns eventually plug cracks between pavers, making them less effective, he says.
Working with each landowner, "we develop a plan based on their concerns. It's all voluntary," he says.
Many times, no government grants are used. For example, Arnolds Park, a popular amusement park, installed permeable pavers without outside financial support. "They do all kinds of things because they think it's the right thing to do," he says.
That kind of local support from farmers, landowners, and residents enabled the project to implement 43 conservation practices in 2019, under poor weather conditions and with a part-time coordinator.
Wills has worked with one farmer for several years who has done a lot on a relatively small amount of land, including cover crops and grassed waterways. The farmer was recently given the Ace Corey Conservation Award by the Okoboji Protective Association.
"That's the most rewarding part, when I see landowners and producers I've been working with for a long time get recognized," he says.
The project also works with several state and private labs to monitor water quality in watershed streams, lakes, and even shallow wells.
Serving in the legislature "has given me a great perspective as to why some of the data and information that we are required to provide to the Iowa Department of Natural Resources (DNR) or others is so important," he says.
Wills' work as coordinator is funded by an EPA Section 319 grant through the DNR. He also works with the Dickinson Soil and Water Conservation District and has helped form the Little Sioux Headwaters Coalition, a Watershed Management Authority which encompasses the Iowa Great Lakes.
To help maintain momentum for this work, Wills will receive funding through the Iowa Watershed Award to apply to the Iowa Great Lakes Watershed Project as well as funding for his own professional development.
IAWA developed the Iowa Watershed Awards program with Iowa State University Extension and Outreach, Conservation Districts of Iowa, the Iowa Department of Agriculture and Land Stewardship, and Iowa DNR.
The Iowa Agriculture Water Alliance (IAWA) is increasing the pace and scale of farmer-led efforts to improve water quality in Iowa. Founded in 2014 by Iowa Corn, the Iowa Soybean Association, and the Iowa Pork Producers Association, IAWA is building public-private partnerships focused on implementing water quality solutions. Learn more at www.iowaagwateralliance.com.