AMES, IOWA – John Swanson, Central Iowa Watershed Management Authorities Project Coordinator, is honored with a Circle of Excellence award from the Iowa Agriculture Water Alliance (IAWA) as part of the third annual IAWA Iowa Watershed Awards program.
Swanson is honored alongside five other watershed coordinators who are also receiving an IAWA Iowa Watershed Award for their multitude of contributions and steadfast dedication to improving water quality across the state.
"With Earth Day on April 22nd, it's a great time to recognize watershed coordinators — the unsung local heroes who work hard every day to implement conservation practices to improve water quality," says Sean McMahon, IAWA Executive Director. "John is creating diverse and innovative partnerships to help farmers and landowners meet local community goals to improve water quality and reduce flooding while simultaneously advancing the objectives of the statewide Iowa Nutrient Reduction Strategy."
Urban and Rural Partnerships
As Central Iowa Watershed Management Authorities Project Coordinator, Swanson pulls together farmers and city homeowners to help control flooding and improve water quality in one of Iowa's fastest urbanizing areas.
Des Moines area residents may recognize Swanson's name from television promotions last fall for the Rain Campaign, a Polk County Soil and Water Conservation District (SWCD)-led project to help homeowners pay for rain gardens, permeable paving, rain barrels, and other ways to absorb rainfall.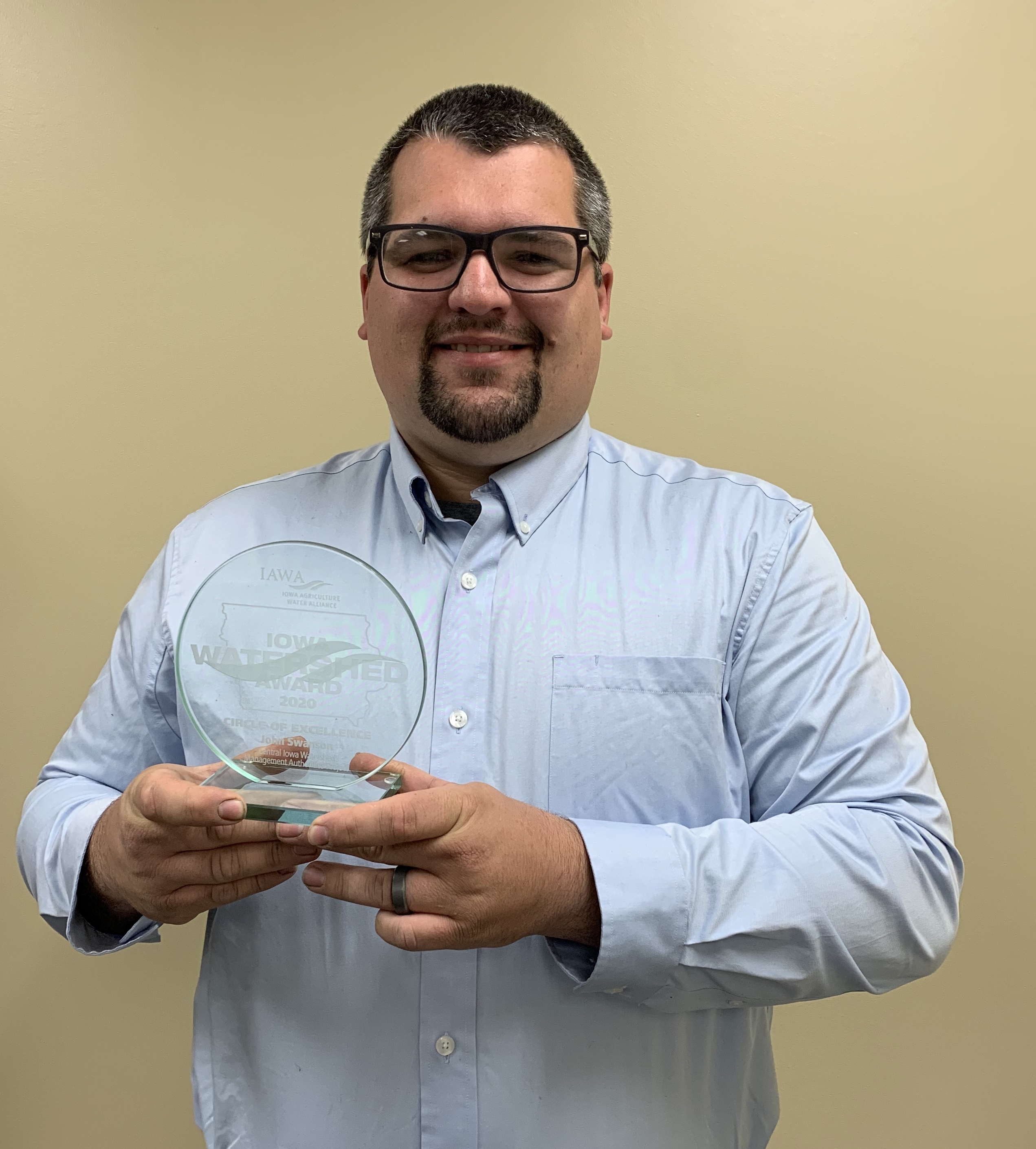 More than 50 have been installed and the goal is to have more than 100 urban water quality practices this year.
In the region's rural areas, he works with the Iowa Soybean Association, Agricultural Drainage Management Coalition, Iowa Department of Agriculture and Land Stewardship (IDALS), Natural Resources Conservation Service (NRCS), Farm Services Agency, Polk County SWCD, and others to help farmers plant cover crops and install edge-of-field practices that improve water quality. A dozen edge-of-field bioreactors and saturated buffers are in the ground in his project area. This spring, surveying is complete for 25 more saturated buffers with a goal of 40 this fall.
"I'm essentially working in all the key watersheds around the Des Moines Metro," he says. He was hired in 2016 by three watershed management authorities — Walnut Creek, Four Mile Creek, and the Mud/Camp/Spring Creeks watershed. Later the job was shifted from the Polk County SWCD to the Polk County Public Works Department.
He works with 15 metro area communities, including cities where flooding has affected older homes in Des Moines, Clive, and Windsor Heights.
"We have issues like houses falling into streams," he says. Using funding from the NRCS, those cities are stabilizing or removing homes to restore floodplains.
With the county losing 500 acres of farmland each year to urban development and a long-term trend for increasing precipitation with more frequent and intense storms, controlling rainwater is a growing challenge. Last year Swanson worked with Des Moines communities, the Des Moines Water Works, and Drake University to fund a $210,000, three-year study of how agriculture, new urban development, and dense urban land use affect water quality.
Swanson also helped with a less common flood control measure—oxbows, which are U-shaped ponds or pools created when a stream changes course and cuts past a former meandering channel.
"We've actually restored 18 oxbows in the last couple of years and that is one of my favorite parts of this project," he says. Oxbows improve flood control and water quality as well as shelter fish and wildlife.
"We had never done one in Polk County," Swanson says.
Swanson credits all of this work to a wide variety of resources.
Project funding has been provided by Des Moines and other cities, Polk County, The Nature Conservancy, IAWA, and NRCS. Cost sharing of farm practices is provided by NRCS, Polk SWCD, and city stormwater reimbursement programs.
In addition to partners in rural areas, others include: Polk County and its cities, the Metropolitan Planning Organization, Capital Crossroads, Iowa Stormwater Education Partnership, The Nature Conservancy, EPA Section 319, Iowa Natural Heritage Foundation, Metro Waste Authority, RDG Design + Architects, Des Moines Area Community College, Growing Green Communities, IAWA, Woman Food & Agriculture Network, Iowa Soybean Association, Izaak Walton League, and the National Fish and Wildlife Federation.
To help maintain momentum for this work, Swanson will receive funding through the Iowa Watershed Award to apply to the project as well as funding for his own professional development.
IAWA developed the Iowa Watershed Awards program with Iowa State University Extension and Outreach, Conservation Districts of Iowa, IDALS and the Iowa Department of Natural Resources.
The Iowa Agriculture Water Alliance (IAWA) is increasing the pace and scale of farmer-led efforts to improve water quality in Iowa. Founded in 2014 by Iowa Corn, the Iowa Soybean Association, and the Iowa Pork Producers Association, IAWA is building public-private partnerships focused on implementing water quality solutions. Learn more at www.iowaagwateralliance.com.