ANKENY, IOWA – John Rathbun, watershed coordinator for the Clear Creek Watershed, is honored with a Circle of Excellence award from the Iowa Agriculture Water Alliance (IAWA) as part of the third annual Iowa Watershed Awards program.
Rathbun is honored with five other watershed coordinators who are also receiving IAWA Iowa Watershed Awards for their multitude of contributions and steadfast dedication to improving water quality across the state.
"With Earth Day on April 22nd, it's a great time to recognize watershed coordinators — the unsung local heroes who work hard every day to implement conservation practices to improve water quality," says Sean McMahon, IAWA Executive Director. "John is helping farmers and landowners meet local community goals while also simultaneously advancing the objectives of the statewide Iowa Nutrient Reduction Strategy."
Improving Water Quality with Flood Control
Before joining the staff of the Johnson County Soil and Water Conservation District and becoming a watershed coordinator, Rathbun spent 18 years as an urban landscape designer.
"That's when I was first introduced to green infrastructure in terms of rain gardens, bioswales, and permeable patios and paving," he says. "That really spurred my interest in water quality and quantity as well."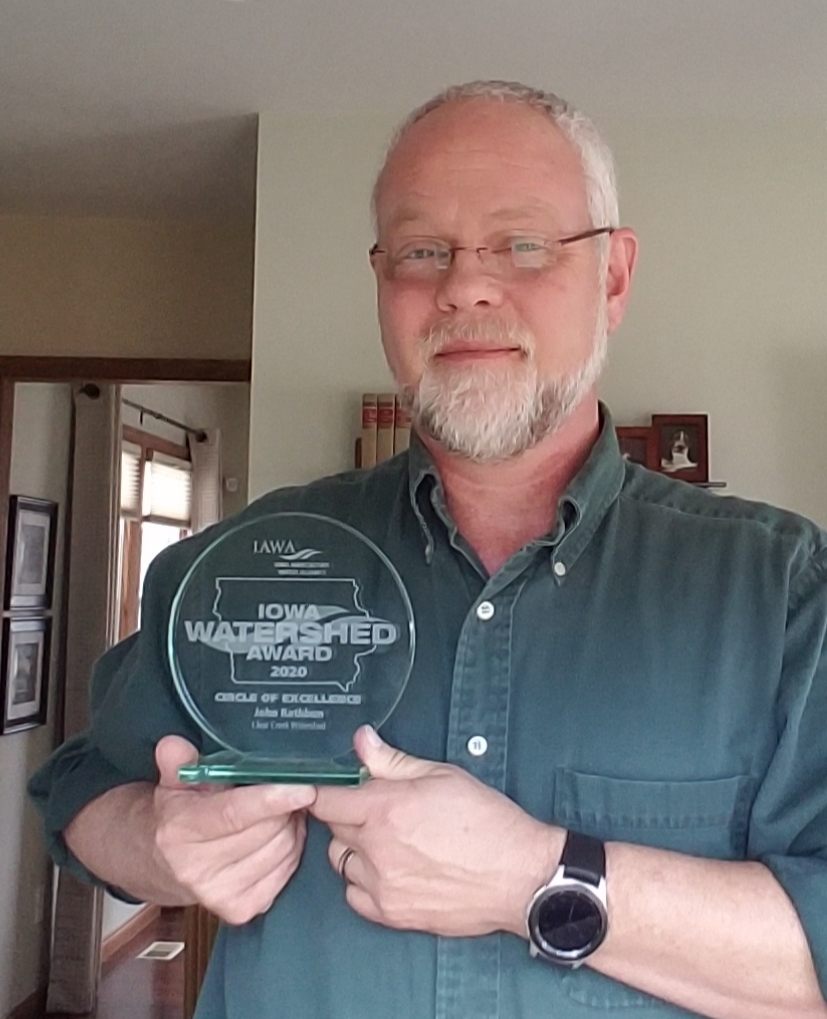 Today, his work in the Clear Creek Watershed focuses on rural areas. About 35,000 of the watershed's 66,000 acres are in row crops. Clear Creek starts in the farming areas north of the Williamsburg outlet mall and empties into the Iowa River in Coralville.
The main goal of the project, funded with a Department of Housing and Urban Development grant, is flood control in Coralville and other communities. "It helps the rural folks too if we save some intersection at a road crossing from washing out," Rathbun says.
Preliminary plans are done for about half of more than 70 planned flood mitigation practices that include ponds, wetlands, oxbows, water and sediment control basins, and terraces. About $3 million will be spent on project construction over the next year and a half. The goal is to complete the project in 2021.
"The most rewarding part has been working with the landowners and walking over their land with them and hearing how they look forward to passing it on to future generations," Rathbun says. Some have told him that they've dreamed since childhood of having a pond on their land.
"Most of the flood control projects have water quality aspects as well," he says. Ponds and wetlands denitrify water and sediment settles out in them.
"They think ponds are close to having the same denitrifying effects as wetlands," he adds.
At two locations in the watershed, the University of Iowa measures nitrate concentration and several other indicators of quality as well as discharge rates.
Rathbun's many partners in the Clear Creek Watershed include The Natural Resources Conservation Service, Johnson County, the East Central Iowa Council of Governments, the Iowa Flood Center, Iowa State University Extension and Outreach, Iowa Department of Natural Resources (DNR), Iowa Department of Agriculture and Land Stewardship (IDALS), Iowa Economic Development Authority, and Iowa Department of Homeland Security.
"Local leaders I work with include those with Johnson County Conservation who sit on our technical committee," he says. "Our Water Management Association board is very involved. The Mayor of Coralville, John Lundell, and Iowa County Supervisor John Gahring, have given me great support and helped trouble shoot when they can."
The project is part of the Iowa Watershed Approach
To help maintain momentum for this work, Rathbun will receive funding through the Iowa Watershed Award to apply to the Clear Creek Water Quality Project as well as funding for his own professional development.
IAWA developed the Iowa Watershed Awards program with Iowa State University Extension and Outreach, Conservation Districts of Iowa, IDALS, and Iowa DNR.
The Iowa Agriculture Water Alliance (IAWA) is increasing the pace and scale of farmer-led efforts to improve water quality in Iowa. Founded in 2014 by Iowa Corn, the Iowa Soybean Association, and the Iowa Pork Producers Association, IAWA is building public-private partnerships focused on implementing water quality solutions. Learn more at www.iowaagwateralliance.com.