Meyer Recognized as 2021 Watershed Coordinator of the Year
In Fourth Year of IAWA Iowa Watershed Awards
AMES, IOWA – Colton Meyer, environmental specialist for the Sioux County Soil and Water Conservation District (SWCD), was honored as the 2021 Watershed Coordinator of the Year by the Iowa Agriculture Water Alliance (IAWA) during the fourth annual Iowa Watershed Awards program.
Meyer is honored alongside five other watershed coordinators who are also receiving a 2021 IAWA Iowa Watershed Award. The recipients were announced at the 2021 Iowa Water Conference.
"In these challenging times, it's important to recognize these unsung heroes who continue to make great progress implementing conservation practices that improve water quality," says Sean McMahon, IAWA Executive Director. "Colton has done a phenomenal job despite the global pandemic partnering with the ag retail sector, other agribusinesses, conservation organizations, local communities and farmers and landowners to drive adoption of conservation practices that improve water quality and advance implementation of the statewide Iowa Nutrient Reduction Strategy."
Community involvement — from third graders to co-ops and farmers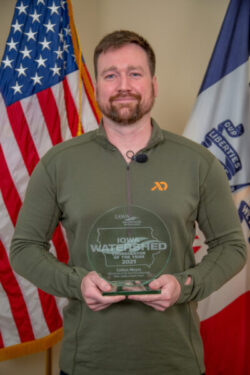 From teaching third graders to understand a watershed to fostering a project record high of 5,586 row crop acres under cover crops in 2020, Meyer has involved a broad community in his work on the West Branch of the Floyd River Project.
Yet, Meyer isn't bragging.
"The thing I'm most proud of is the people I get to work with," he says.
They include members of co-ops — Farmers Cooperative Society in Sioux Center, the regional Cooperative Farmers Elevator group (CFE), and Land O'Lakes, which uses its Truterra program to drive farmers' conservation efforts and measure results. At Dordt University in Sioux Center, Meyer showed professors and students how to test for water quality improvements from saturated buffers and bioreactors installed at the edge of fields. He has worked with Unity Christian High School students, teaching in the classroom (before the 2020 pandemic) and distributing Wood Duck box kits from Ducks Unlimited that students assembled and placed in riparian buffers to enhance wildlife habitat.
"We have a lot of great farmers in our area, too," Meyer says.
Last year they chalked up impressive statistics: 5,586 acres in the watershed planted in cover crops, the most ever; 3,545 acres of low-disturbance manure applications, nearly twice the annual goal; and 5,209 acres in no till. Ten of the farmers planting cover crops were trying it for the first time.
This increased interest in practices that build soil and improve water quality is one of the biggest changes Meyer saw in the past year.
"The more farmers try out a new practice, the more inquisitive their friends and neighbors get," he says.
Last winter Meyer mailed surveys to area farmers and found that more than half ranked water quality as one of their top priorities on the farm.
Meyer grew up on a farm near Everly, Iowa. It was his father's and grandfather's love of fishing and hunting that instilled in Meyer a love of the outdoors. His father also participated in conservation programs on the family's farm. All of that helped steer Meyer to a major in environmental science at Iowa State University, where he graduated in 2010.
He farmed with his father for a few years before taking a job in 2016 in Orange City, working for the Iowa Department of Agriculture and Land Stewardship's (IDALS) Water Quality Initiative as a watershed coordinator for the Sioux County Soil and Water Conservation District (SWCD) helping to improve water quality in the West Branch of the Floyd River.
"That was my passion, finding a way for agriculture to co-exist in the natural world we all live in," he says.
Early in 2020 he was hired by IDALS as environmental specialist in the same Orange City office. The new job brought a larger geographic area and more farmers to work with.
Meyer also works with many farm groups, including the Sioux County Farm Bureau, which has publicized project success stories in the Farm Bureau Spokesman, and the Iowa Soybean Association, which provides several kinds of technical support. He works closely, too, with USDA's Natural Resources Conservation Service. "Without their help I wouldn't get nearly as much done," he says.
To help maintain momentum for this work, the local SWCD will receive funding through the IAWA Iowa Watershed Award.
The IAWA Iowa Watershed Awards program was developed by IAWA in partnership with Iowa State University Extension and Outreach, Conservation Districts of Iowa, IDALS, and the Iowa Department of Natural Resources.
The Iowa Agriculture Water Alliance (IAWA) is increasing the pace and scale of farmer-led efforts to improve water quality in Iowa. Founded in 2014 by Iowa Corn, the Iowa Soybean Association, and the Iowa Pork Producers Association, IAWA is building public-private partnerships focused on implementing water quality solutions. Iowa farmers are actively engaged in various conservation efforts that improve water quality. Learn more at www.iowaagwateralliance.com.